In my last post, I shared free technology resources that enhance the teaching of the traditional 3 R's: reading, 'riting, and 'rithmetic. Today I'll share tools that can help you provide skills practice in some the 4 C's: the new skills required for students to gain jobs in the 21st century job market.
Collaboration
Padlet – Now with more ways to post, this virtual pin board can be used for quick exit tickets, a way for groups to gather thoughts and ideas. For example, our Family and Consumer Science instructor uses Padlet as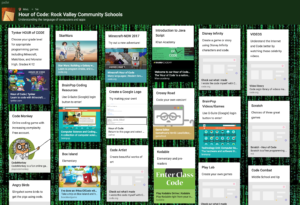 one of her students' options for creating their Life Skills Collage. Padlet is also used in many courses as a location to ask questions or provide feedback on a topic. The Hour of Code event we hosted in our district was aided by a Padlet of consolidated resources for the entire school to use. Even our teachers use Padlet for their own learning, as they post resources, comments, and new learning during professional development.
Classcraft – With the free features, teachers can create a virtual community complete with avatars, challenges, and many ways to work together in teams to promote positive collaboration. Peer support and accountability make this tool one that our district users have found to be effective for team building.
Nearpod – Select from hundreds of free lessons or create your own. Think of it like an interactive, souped-up Powerpoint. It's fantastic!
Communication
Flipgrid – Create short videos on a grid (you get one reusable grid in the free version). Wonderful way for kids to show what they know while also working to meet the listening, speaking, and viewing standards. Feedback via video, as well.
Today's Meet – Solid backchannel site allows for discussions about content in real time. Use in class during videos or as a homework assignment. Printable transcripts for accountability/grading.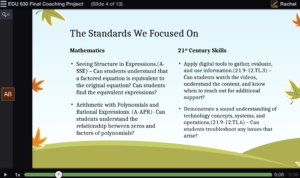 VoiceThread – Multimedia projects can include video, image, voice, and drawings. The platform allows for feedback from peers. The opportunities with VoiceThread are really only limited by your imagination. VoiceThread has been used as a platform for final projects, including this 13-slide presentation (see screenshot to the left) from one of my graduate students.
Creation/Creativity
Show Me – Available for iOS and Android mobile devices. Interactive whiteboard recorder for kids to create and show what they've learned.
Code.org – A large collection of self-led coding tutorials that walk even the smallest learners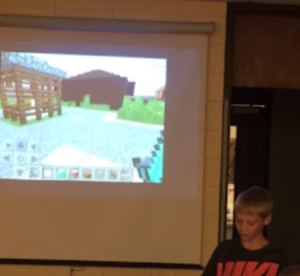 through coding basics. Teachers do not need to have experience in computer science to use this site. We have used them with students as young as kindergarten pre-readers and as old as our Foster Grandparent classroom aides, with great results. There is something for all ages and abilities here.
Minecraft – This popular venue has so many classroom possibilities. Use it to retell a story, recreate a historical scene, or generate a visual representation of things like a human cell. See this blog post for more details on that project!
Critical Thinking
CanYouEscape apps – available for iOS and Android platforms. If you have ever been to any sort of Escape Room, this is your digital version. Use analytical deduction to find your way out of a digital room. Not only must you uncover all of the clues provided, but you must be able to figure out how to use those clues correctly in order to move to the next level.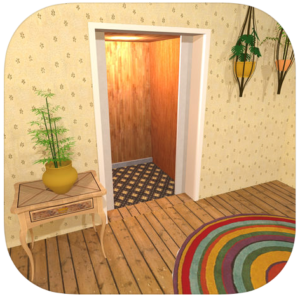 Scratch – Use problem solving and critical thinking to create games, stories, and animations through code. This site, from MIT, seeks to teach users the basics of programming. Since programming is the process of breaking down actions into smaller parts, students using Scratch are pushed in their critical thinking as they tackle the endless challenges of bringing their own design to life.
Regardless of the tool we find, one thing holds true. Our focus must never waver from student learning. We are a Googling society, where answers to many simple questions can be found at our fingertips. Start by asking yourself if what you are requiring of your students could just be found by searching the 'net. If the answer is yes, it's time to up the ante. What do you want students to know when they leave your class? Provide opportunities for students to engage more deeply with content and use the skills you've taught them to perform analyses, solve problems, and engage in debates and discussions, just like they'll be asked to do in new 21st century careers. We owe it to our kids. Challenge accepted.