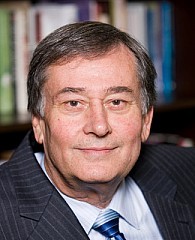 Gene Wilhoit
Board Member
Gene Wilhoit is the CEO of the Center for Innovation in Education at the University of Kentucky, and was a Partner at Student Achievement Partners from 2013-2015. Gene served as executive director of the Council of Chief State School Officers (CCSSO) from 2006 until 2013, having spent his entire professional career serving education at the local, state, and national levels. At CCSSO, Gene spearheaded the states' collective action to adopt the Common Core State Standards, marshaled a comprehensive restructuring of teacher and leader supports including consensus on preparation reform, stimulated state action to improve data systems and founded the multi-state Innovation Lab Network.
From 1994 to 2006, Gene led two state education agencies, as director of the Arkansas Department of Education and as deputy commissioner and commissioner of the Kentucky Department of Education. In those positions, he shepherded finance reform, led equity initiatives, designed and implemented assessment and accountability systems, advanced nationally recognized preschool and technology programs, and reorganized state agencies to focus on service and support. Gene began his career as a social studies teacher in Ohio and Indiana. He served as a program director in the Indiana Department of Education, an administrator in Kanawha County West Virginia, and a special assistant in the U.S. Department of Education before assuming the position of executive director of the National Association of State Boards of Education (NASBE) which he held 1986-1993.
Gene holds degrees from Georgetown College and Indiana University. Wilhoit has also studied education administration at the West Virginia College of Graduate Studies. He is a member of numerous education organizations, serves on several boards, has served on national and state commissions and has written and spoken on a variety of education issues.
He and his wife, Rebecca Campbell Wilhoit, have three children, Christopher, Kara, and Jason.