Starting a new school year causes me to reflect on the classroom culture I aim to create: a culture where students feel welcomed and loved. Most importantly, learners need a place where they can flourish.  Success can mean many different things depending on the student's personal learning goals. However, I am consistently reminded that in order to thrive in school, students must receive feedback beneficial to their growth as learners.
I often ask myself what should be present to create a culture where the norm is for students to receive and provide feedback that positively impacts their learning. I always seem to come to the same point–I must shift my mindset and focus on using assessments based on my students' learning goals. So, how can we establish this learner-centric approach?  One of the best classroom assessments is simply to infuse effective feedback into all classroom activities.
Beginning with a clear learning goal and identified criteria that must be used to master that objective is vital. A clear goal affords teachers confidence that we are delivering what our students need. Moreover, we can assess how well they are learning from our instruction. Aligned with the grade-level standards, distinct learning goals with criteria allow teachers to structure productive conversations. Using classroom discussion with appropriate feedback ensures that everyone (administrators, teachers, and students) understands exactly what goal mastery would look like in the classroom. In my experience, so often the mastery of a goal is based on a final letter grade. I want to shift to a different perspective wherein mistakes could become student learning opportunities.
In order to use feedback effectively, we should start with our own communication. As a teacher, my student relationships must develop so that students understand that I know what encourages them and how they handle criticism. Most importantly, learners must trust that you are working to help them be successful. Students will do most anything if they know you love them enough to hang in there with them.
As I worked to use feedback effectively in my classroom, I began with myself. Teacher feedback needs to be specific and provide students with small steps for improvement. While each learner might be at a different point in the progression toward the learning goal, every student has a next step appropriate for him or her. My learners needed to know what to do without me explaining it so in-depth that I was doing the work for them. Feedback had to recount what I was seeing and how I wanted students to improve with no judgement of their progress thus far. Regardless of the students' ability level and mastery of the content, I had to find ways to be positive about what was well done and ensure that any negative feedback was accompanied by positive suggestions for improvement.
Beyond evidence-based written feedback or the quick and quiet verbal feedback in my classroom, I  learned to check my students' understanding of my feedback as well. Without that awareness, it was unlikely my feedback would have been implemented and students would not have progressed based on that feedback.
I quickly realized that I was not the only one who could provide effective feedback within my classroom. My students were becoming increasingly responsible for their learning and began to to give their own feedback. Through regularly modeling what good questioning looked like, my students were able to provide peer feedback by asking questions and their own self-feedback by thinking in questions. Students begin to question if answers make sense to them and if they could have approached a problem differently. By using self-reflection, they are able to view their learning through a different lens.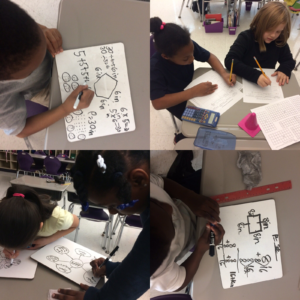 Ultimately, feedback only works if students have an opportunity to use it soon after they receive it. As a teacher, I had to reshape my perspective on how to encourage students to grow as learners and master their learning goals. As a result, we began to create a feedback culture in Room 300 and learned that mistakes do not define who we are; instead, errors allow us to grow as learners.
Save