Three years ago I implemented Wit & Wisdom and although it was my 10th year of teaching, I felt like it was my first. Every night, I was studying the next lesson, trying to make sense of the new vocabulary, and wondering if I would ever get to a Deep Dive. There were a few other teachers involved in the pilot that year, and we talked enough that I knew I was not alone. The next year, my district implemented the program with other 100 teachers in grades K-8. As with anything new, different, and challenging, people respond in different ways. But from having conversations with these teachers and our instructional coaches over the last few years, I've noticed that there is some consistency in the stages of implementation. It goes something like this…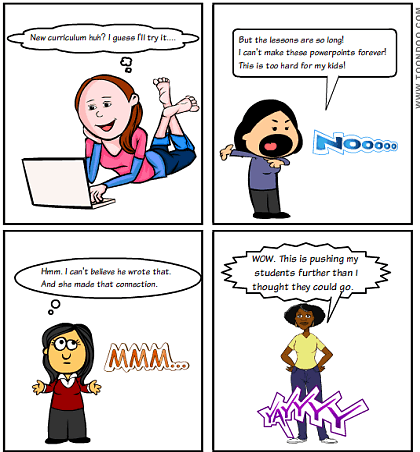 To give you a little more insight into how teachers made it to the "Yay" stage, I interviewed three teachers from different grade levels. Lisa is a 1st grade teacher in Year 2, Holly is a 4th grade teacher in Year 2, and Ashley is a 7th grade teacher in Year 3 of implementation.
Question 1: What is the most powerful component of the Wit & Wisdom curriculum for your students?
According to Lisa, this was without a doubt the ability for the kids to dig deep into a book. She is still amazed by her 1st grade students' ability to not only investigate but also articulate thorough understandings of the texts they read and the author's purpose. I asked her if she ever worried these lessons were too challenging for such young students. She said absolutely, but now she can see that it is never developmentally inappropriate "to make our kids think on their own, to come up with new ideas, and go deep."
Holly described similar changes in her 4th grade classroom. She has been amazed by her students' ability to communicate their learning, both in speaking and writing. She loves that all of her students, regardless of reading level, are able to participate in deep discussions because of the shared knowledge building. Holly has been teaching for 20 years and credits Wit & Wisdom for the best writing she has ever seen students produce.
The dramatic growth in verbal and written processing was also highlighted by Ashley, a 7th grade teacher and department chair. Ashley likes how many opportunities students have to express their own ideas about the texts and topics. Her striving readers and English Learners benefit from the examples they are provided both from the curriculum and from their peers. This explicit attention to language is a very powerful feature of the program.
Question 2: What are some dos and don'ts for implementation?
Dos
Don'ts
1st Grade
Keep your students in mind. Let yourself deviate from the lesson to connect to your students' needs, interest, and background.

Create a module word wall with visuals to help all students access the vocabulary.

Don't be afraid to use the vocabulary and the big words in the program. The students are capable of learning these academic words and deserve the opportunity to do so.
4th Grade
Make time to do the program right. Make sure you have 90 minutes per day, and try to get through 4 lessons a week even in the first year.  Stay positive about the challenge and your kids will follow your lead!
Don't skip the Deep Dives! You will end up regretting it if you don't make time for them. They include many important skills that students need.
7th Grade
Find the joy in student – and teacher – learning.  This type of curriculum is a big change for the teacher as well as the students. Put aside what you think kids need to be doing and recognize growth and success in your classroom.
Don't let the students get rid of anything! All of the papers from the module are important in the end. Our team helped our students set up binders for Wit & Wisdom and created packets to keep them organized.
Question 3: What has been the most challenging aspect of Wit and Wisdom for your students? What have you done to help them be successful?
In the primary grades, the length of the lessons has been the biggest implementation challenge. Lisa and other teachers have addressed this by breaking up the lessons with Brain Breaks or moving the Deep Dives to another time of the day. They also make sure to get the kids up and moving during instructional routines like Mix and Mingle (a moving Think-Pair-Share). In addition to the length of the lesson, the rigor of the lesson was also a shift for the teachers and students. Lisa said one of the biggest changes she has made to her practice is increasing wait time for her students. In the past, if a student didn't seem to know the answer, she would suggest they ask a friend and call on another student. However, with the more challenging content and concepts, she has realized she needs to allow more processing time: "If we want them to dig deep, we have to give them that opportunity to think."
In 4th grade, the biggest challenge was the difference in the writing instruction and the substantial increase in expectations.  Holly said that in the beginning module she felt like the lessons were too guided and that her students weren't getting enough independent practice. However, she trusted the program and "as each module went on, the students became more independent and confident." Even though her students did not always meet all of the criteria for an assignment, Holly focused on the progress they were making and was able to see huge gains by the end of the year.
In middle school, grading became a challenge, both figuring out what and how to grade so that students receive fair grades within a more rigorous curriculum. Ashley and her team have changed their grading policies to focus more on mastery of standards than just completion of work. They use the success criteria at the end of each lesson to assess student understanding and guide their instruction. Ashley focuses on providing her students with substantive feedback rather than just grades, even in parent teacher conferences. Both she and her students have a much better understanding of their actual learning.
All three of these teachers have moved into the "Yay!" stage of implementation. However, they would assure you that despite their combined 50 years in the classroom, they went through the rough early stages as well. During our conversations, I kept noticing the ideas of trust and balance coming up again and again. In the beginning, they struggled to trust the program to meet the needs of their diverse learners. They struggled to balance their own classroom styles with the structure of the program. They were happiest when they were able to find that balance, but it did require confidence in the curriculum design and the capabilities of their students. What I love about all of their journeys is that, even though the curriculum is still complex and rigorous, these educators are excited and committed to keep pushing themselves because they see the impact and the benefit for their students.
For more information about Wit & Wisdom and the shift to a rigorous, knowledge-building curriculum, check out these resources.
Wit & Wisdom Webinars
https://ww.greatminds.org/wit-wisdom-webinar-library
Hard Words: Why aren't kids being taught to read? (APM Report)
https://www.apmreports.org/files/hard-words-print.pdf
Knowledge Matters Tour (Blog post)
http://knowledgematterscampaign.org/school-tour/saville/