The eyes of 28 first graders stared back at me from their carpet spots on a map of the world, a world I was getting ready to introduce to them in a very different way: we were going back in time…to Ancient Mesopotamia. My own eyes searched theirs, apprehensive and wondering whether I could take this topic, that so many had said would go right over their heads, and make it real. And so began my journey into making Core Knowledge Language Arts (CKLA) the highlight of their first grade lives.
That was three years ago and now, in my sixth year of teaching, I have found the curriculum, chosen by our district office, to be one of the biggest assets in teaching literacy through the lens of the Common Core Shifts. It has the information and vocabulary students need and it has the space for teachers to make it their own for their students.
The Highlights:
One of the most beneficial aspects of CKLA is the content. As indicated in the Common Core Shifts, non-fiction is important and needs to be more of a priority than it's been in the past. In the first grade CKLA curriculum alone, students study multiple ancient civilizations, astronomy, earth science, and even American Independence, to name a few topics. Fiction isn't forgotten either, including domains on different genres like fables, folktales, and fairy tales. It provides a solid foundation for learning about the world that builds across grades.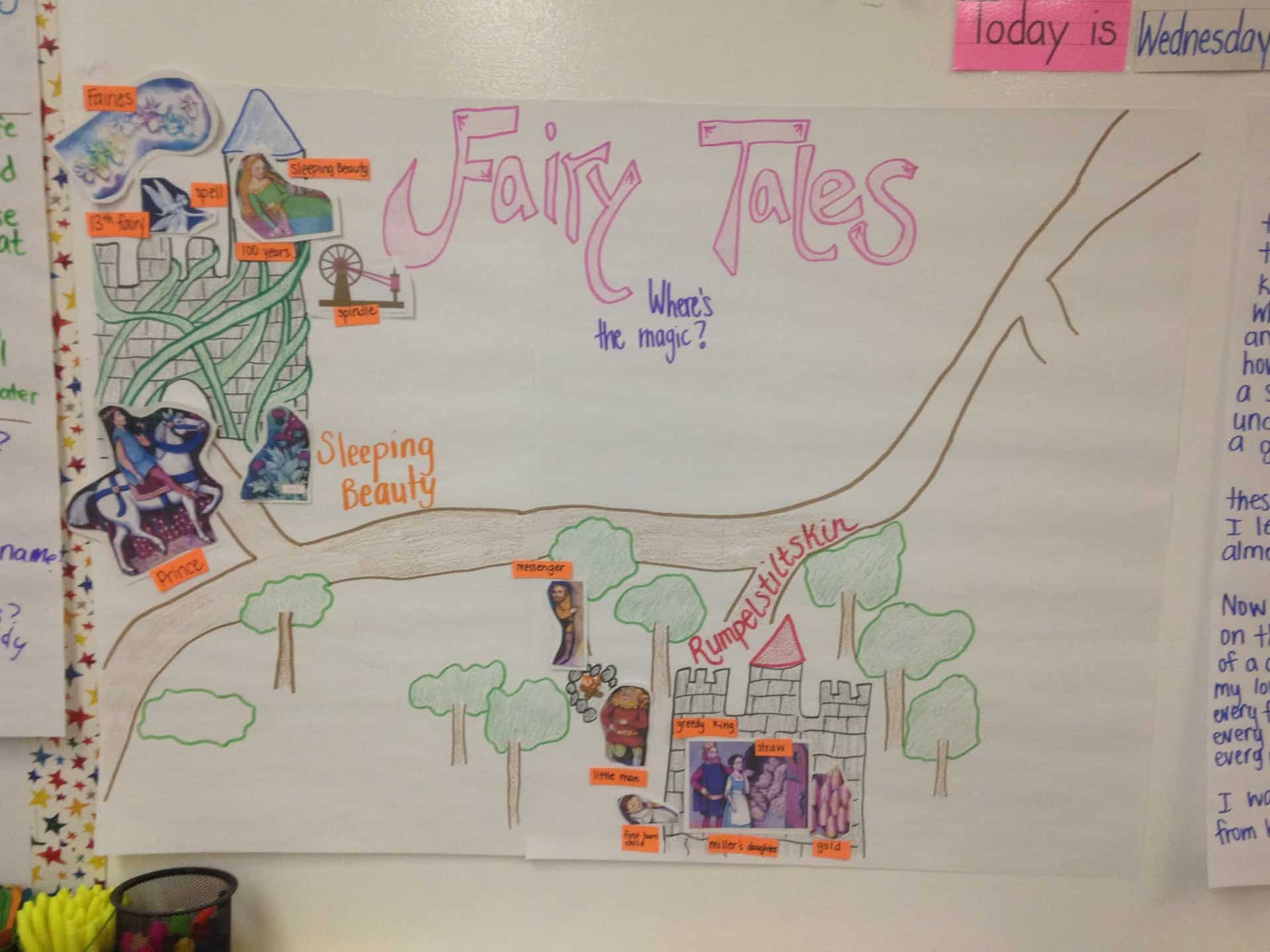 An anchor chart created by the Williams to help students build vocabulary used in fairy tales.
These dense content areas wouldn't be accessible without a focus on vocabulary. CKLA offers ways to present students with concrete understanding of key vocabulary through the use of horizontal word walls (i.e., for the word "settle," different words are aligned along a spectrum based on how they related to "settle": descend, float, rise, sink, fall) and oral discussions. Vocabulary is also an entry point for teachers to be creative in making the classroom walls drip with literacy as the domain comes alive through written pieces, art, and expository text.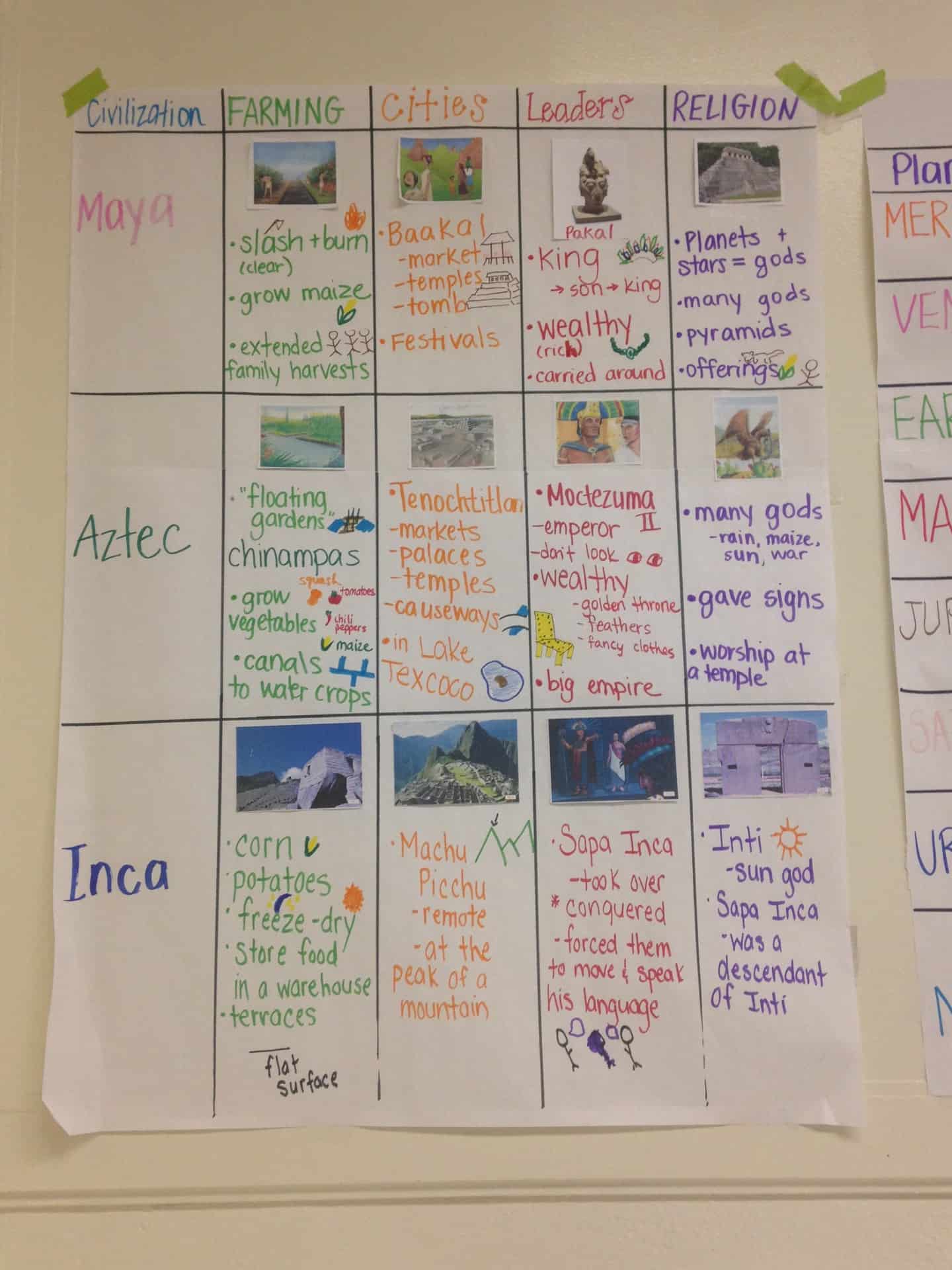 An anchor chart created by Williams to help her first grade students master content associated with ancient civilizations.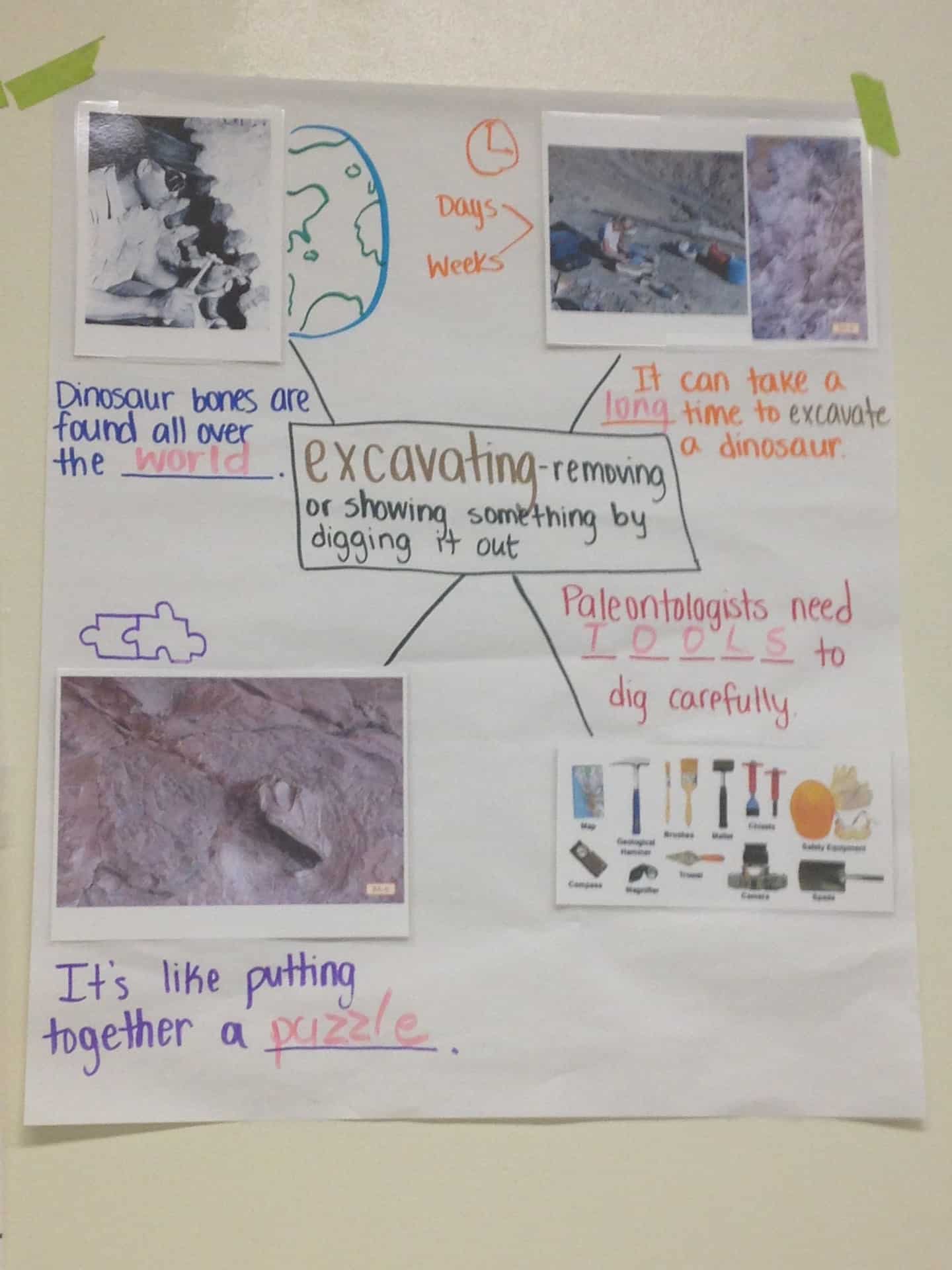 An anchor chart created by Williams to help her first grade students understand the concept of excavation.
The read-alouds are complex; students need the guidance and scaffolding that teachers can provide to engage in and understand the concepts and ideas found inside each lesson. With the use of graphic organizers, anchor charts (the supplemental guide for CKLA has some suggestions for these), and small group close-reads with highlighters in-hand, students come to own their learning in a way that makes it stick.
The Challenges: Making It Accessible for All
While the content is engaging and the vocabulary is rich, not all students are able to access CKLA's lengthy read-alouds in the same way, which is to be expected as our students bring with them a wondrous diversity of experiences, knowledge, language, and skills. While the creativity of teaching can be one of the best things about the job, using it to adapt challenging content can be difficult.
As the curriculum progresses, the domains get more complex, requiring additional scaffolding and differentiating to make the texts accessible to students while still maintaining their complexity. Picture dictionaries, guided notes, and G.L.A.D. (Guided Language Acquisition and Design) strategies have been very successful, but the time it takes to do that for every lesson for various groups of students can often take more time than teachers have.
To combat this, my motto is "Work smarter, not harder." As teachers, we belong to a very special group of people who, when we collaborate, can share a load that may seem unbearable so that all of our students can benefit. Creating and sharing lesson resources for CKLA is easy; the curricular materials are open source and easy to get. The supplemental guides are particularly useful. From there, the options are endless for how you can adapt text, vocabulary, assessment, and projects.
One of the challenges with CKLA is that by providing so much rich content for students, they lose the opportunity to do a focused study on one aspect of a unit. Daily read-alouds have a new topic each day and the pace can put students at a disadvantage. This limits our ability to dive deeply into a text: to re-read and explore different aspects of a text. To combat this, I designed text sets that partner the non-fiction domains and allow students to study one aspect of the content for a three to four week period. For example, during our study of the human body, we read three texts on germs. Text sets are done in conjunction with the CKLA read-alouds as a supplement to the curriculum.
Because I teach first grade and do curriculum work to support the other primary grades, namely K-3, we needed a way to make text sets accessible to early readers. Through shared reading and read-alouds in small groups, students in these grades can gradually take ownership of 'doing the heavy lifting' to make meaning of the texts put in front of them. Student learning logs accompany each text set to track the knowledge and vocabulary they are adding to their growing schema.
In essence, CKLA is a great tool for bringing not only the Shifts but also the world to life.