All teachers possess philosophies and theories that emerge as they teach students in the classroom. These philosophies shape the teacher's choices on how learning occurs and at what rate. The philosophy and the strategies I employ in my classroom are based on my personal experiences as an English Language Learner (ELL) myself.
I came to the United States at the age of 15. I experienced culture and language shock that hindered my education. My language learning experience was not pleasant since it relied heavily on just memorizing the rules of English. Later in life, I realized that language learning needs to be integrated into meaningful concepts and content learning.
This realization coupled with my own personal experiences as an ELL inspires me and motivates me to create lessons for my ELLs that are going to bring the best out of them for all to see. As an English as Second Language (ESL) teacher, my primary goal is to teach English to students whose dominant form of communication is in a language other than English. However, what I teach and how I teach it are what will inspire them to greatness.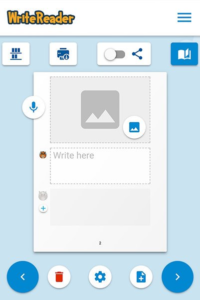 Now, in order to provide meaningful and compelling lessons for my ELLs, I need student-friendly and user-friendly resources, and www.writereader.com is exactly what I need. This app provides a platform where students create and publish their own books using their creativity and imagination. Within each page, students can add text, voice, and an image added from the search bank or upload own images!
What I love most about this platform is the teacher's writing section. This adult writing field can be used to provide feedback, transcribe, and/or translate.
In Boosting Achievement: Reaching Students with Interrupted or Minimal Education by Carol Salva and Anna Matis, I learned that, as educators, we need a common understanding of Culturally Responsive Teaching (CRT) in order to establish a comfortable and interactive environment for ELLs for optimal language learning and academic achievement. I found that Valentina Gonzalez provides a very clear definition in her MiddleWeb post stating that CRT is teaching that takes the experiences and assets of the students and uses them to enrich the curriculum.
Based on this research and with the help of WriteReader, we are able to create the best learning experiences where language and content go together.
Digital Glossaries
Words Their Way Lesson
One of my greatest passions is teaching students who have recently arrived in the USA and are just learning the foundations of the English language. I believe it's imperative to create effective lessons and opportunities for these students to embrace learning to support English language development.
In order to support their language learning, we use Words Their Way with English Learners. This word study program provides my ELLs with phonics, vocabulary, and spelling practice with the support of wonderful images.
However, for my students to achieve a high level of English proficiency, they need varied opportunities for language acquisition. So instead of focusing heavily on word lists, we use WriteReader to interact with the language in an oral and written way.
We start by sorting the words from our Words-Their-Way lessons of the day words into categories. We intentionally practice the correct pronunciation for each object and I provide direct instruction as to how and why each word is pronounced a certain way.
Next, we make a list of the learned words and translate them into the students' native language to enhance meaning. Using native language honors the students' home language and their intelligence, and helps them internalize meanings of new words by making connections to their first language.
Last, we take it a step further and begin creating personal digital glossaries using WriteReader app. Students enter the English word in the student's section and the teacher's section is used for them to add the translated word. In the student's section, they have the option to record their voice. This fantastic feature allows for speaking practice (known as output) in the target language. It also helps students hear the word as they go through the pages just in case they forgot how to pronounce it.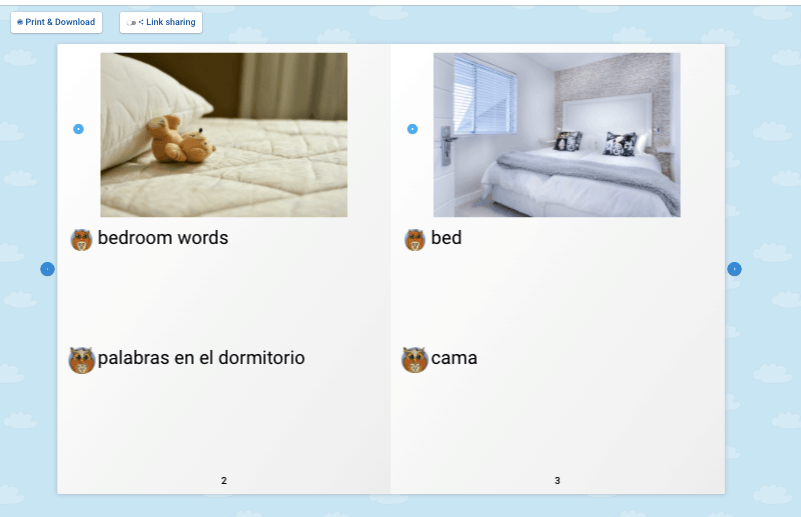 My students were super excited because they were taking ownership of their own learning and were engaged in authentic interaction with one another.
These activities would be great for your students after teaching specific vocabulary words or when teaching sight words to your students. Interacting with the words and adding images to their words allows rapid comprehension and acquisition of the target language.
Authoring Books
First Graders – Retelling and Identifying Characters' Feelings Lesson
We began the activity by readi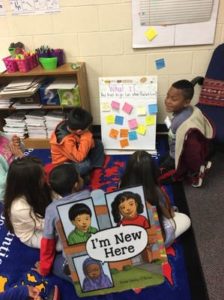 ng: I'm New Here by Anne Sibley O'Brien, a fascinating story of three immigrant students who are working hard to fit in at their new American school. Our characters experience struggles and confusions because of the language barrier. This is a great book that not only mirrors our students' experiences but also provides a window for students to see and learn other cultures.
After reading the book, we brainstormed ideas on how we wanted to retell our learning, and together we made our own word bank to support our writing. We decided to split into three groups to represent each character. Groups were created based on the character students wanted to write about.
Students collaborated and worked very hard to create their book. Guidelines were to use transitional words: "First," "Next," "Then," "Last," and to tell how the character is feeling and why.
Students published a book for each character: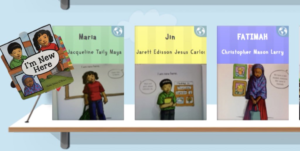 Fifth Grade – Tacos Lesson
With my 5th graders, we read Taco Takeover from StoryWorksJr from Scholastic. In this article, students read all about the beginning and history of tacos taking over in the USA. This reading led to discussions about how to make tacos. Students began discussing the facts learned but also started discussing the topping they like on their tacos.
Students wanted to write about their learning, but they also wanted to add their own personal touch. So, each student wrote their own book with facts from the text, adding their own knowledge of how to make tacos and what ingredients are needed. Read their published books: Tacos are the Bomb; Taco Takeover!!; Taco Take Over; Tacos; Tacos.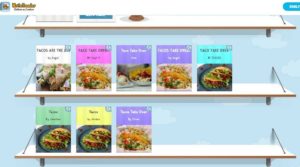 The same high expectation I have for my students is the same high expectation I have for myself when it comes to providing effective and engaging lessons for my students. As you can see, English Language Learners can engage in high-level cognitive tasks as long as we provide the appropriate scaffolding and have a strong desire for them to be successful.