Choice Boards
How do we ensure all of our students are engaged in their learning? How do we create activities that support our students' learning and still give them choice? How do we differentiate our students' learning using parallel tasks? The answer to these and many more questions that keep teachers up at night is the implementation of choice boards.
Choice boards can be used in a variety of ways to ensure each of our students is able to develop and apply what they are learning. Most importantly, choice boards encourage our students to own learning by giving them options.
Homework Choice Board
One of the most popular and easy ways to implement choice boards right away is to use it as homework. My grade-level team and I design the homework with the reading, writing, and math standards in mind. We also encourage family involvement. The goal is to practice the standards in an entertaining and purposeful way that does not take away from family time.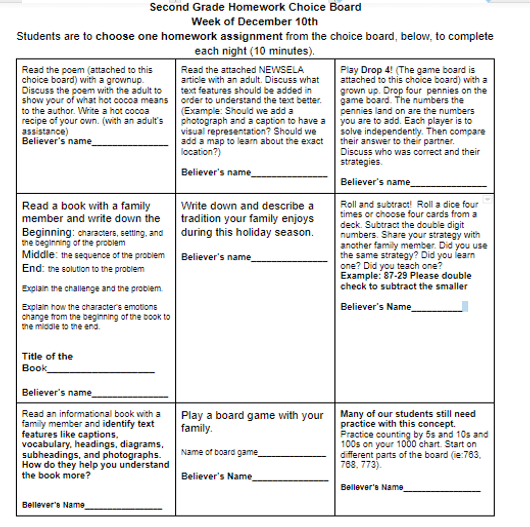 Morning Choice Board
I don't know about you, but I have found many of my students find it difficult to transition from home to school right away. They may need time to transition from playing outside, time to distract them from an incident that happened at home, or time just to transition period. Thus, I implemented the "Morning Choice Board" for the first ten minutes of our day. The goal is to have students engage in purposeful activities that incorporate reading foundational skills and are game-related. They are to choose a different morning choice activity every day. This has reduced tardiness and absenteeism considerably. My students love these games so much they have asked their families to purchase them to use at home.
We chant our "Believer's Cheer" at the end of Morning Choice to make the clean up as efficient as possible: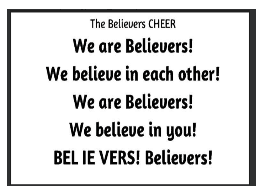 At the end of the week, they are to write a reflection of one of the activities including why they chose it, how it has helped them transition to the academic part of the day, and how the choice helped them with their reading, math, or writing.  My kids cannot wait to play: phonics checkers, Boggle, Bananagrams, Apples to Apples, LEGOS, sight word checkers, Rubik's Cubes, Jenga, or PlayDoh.

Math Choice Boards
Ensuring my students have a choice to show how they are solving problems within our math standards is an imperative part of metacognition. They need to be able to share with me and others why they are choosing the strategy and how it is helping them grow as a mathematician. We incorporate the 8 Standards for Mathematical practices. (Debbie Waggoner has a plethora of resources and posters to explain and emphasize how to implement the 8 Standards for Mathematical Practices: http://www.debbiewaggoner.com/math-practice-standards.html.)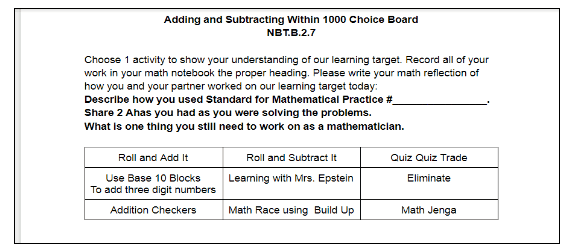 Versatility
Choice boards give students versatility and still set specific perimeters to ensure the standards are met. These options have given my students the opportunity to own their education, discuss their learning, and to determine the next steps to grow as a learner.
Want to connect and learn more? Follow me on Twitter @tikaee