I teach first grade in Anacortes, Washington and my district recently adopted a popular balanced literacy curriculum. I have had wonderings and discussions with colleagues about students reading "at their level" and what this means for our struggling readers. I wondered how my struggling readers would ever access grade-level text if they were always reading "at their level."  I also believe students have more than one level. If they have knowledge around a topic, they can read a higher level text and I wouldn't want any books to be off-limits for a child to try and read.  I was recently invited to participate as a pilot classroom in a project to design "book baskets," or collections of thematically similar books at varying complexity levels, out of the books in my classroom library. This work came along at a perfect time. I wanted to try something different to reach the needs of all of my readers, and ensure they were making progress tackling increasingly complex texts.  This project's focus was on increasing student motivation, enthusiasm, and engagement when they were given choice in the books they read.
My classroom library is organized into topics and levels.  Each K-6 classroom in my district was given a leveled library. I created book sets with many of these new books. This campaign was about engagement so not only did I create sets based on topic for knowledge/vocabulary growth, I also chose books based on high-interest characters.
Here's what I recommend doing:
Look through your books and see what topics stand out to you. Can you group your existing library into collections on the same theme, topic, or character?
After you've identified groups, look through your books to see if the texts are linked topically and present opportunities to build knowledge and vocabulary. Are there tier 3 words that are in common? Are there tier 2 words or concepts that will be reinforced through reading the linked texts? A guiding question for you can be "What content will my students learn by reading this set of books together?" or "How will students be able to access higher level texts if they read these topic-based sets?"
Put the books together in baskets, tubs, or Ziploc bags.  Ideally, the books in your sets will be at a variety of levels. Students can access the increasingly more difficult texts in the sets because they will have learned the vocabulary from the easier levels.
This can be done in stages.  You don't need to create all of your sets before you get started.  As a first grade teacher, I started by creating sets of books from my leveled C-F books.
Introduce the book baskets to your class.  Tell your students they will be able to pick the sets they are interested in and become experts on a topic or character.
Book Baskets in My Classroom
This project created 3 positive changes to independent reading time in my classroom:
Students are accessing harder books in book baskets because of their knowledge and vocabulary learning in the text sets. By reading texts that are linked, they are building their knowledge of the topic and thus able to easily access more complex texts than they had been doing previously.
Students have choice. They choose the book basket they want to read and they choose the individual books they read during independent reading time.  My students have always had choice but in the past it was after they had spent time in "their level" of books.
Students don't know their level.  This was a goal of mine when I began this project.  When asked why they chose a certain book or book basket, I did not want anyone to tell me it was because it was "their level." Thanks to this project my students are now saying things like, "I chose this book basket because I love cats;" "Fly Guy makes me laugh;" or "My friend told me I would like it so I am trying it."
Student Reaction to Book Baskets
Student motivation has never been higher. Students are eager to choose books and book baskets. One student suggested creating a sign-up list for the sets since students are anxious to get their hands on certain popular sets! They are excited when it is independent reading time and they get started right away sustaining their reading for 30 minutes. I remember one of my students being so excited about what he accomplished that he shouted to the whole room "Can you believe I read 21 pages?!" after reading about sea life – a topic of his choosing. Another of my students really loves books about Danny the Dog and asked if he could stay in at recess to search the classroom library to see if he could find any other books about Danny to add to our set.
When I look across my class during independent reading time, their eyes are on their books and they are silent or whisper reading. To really know if they are engaged, I have increased talking about books. The students get a chance to share what they read, what they learned from their book, what they enjoyed and why. I believe if they can talk about their reading, they are truly engaged with the work.  They want to share their learning and enjoyment with their friends. My students frequently want to recommend their favorites to their friends, and read aloud to me to show their skills. And they're right to be proud – many of my students can read books above their level with ease now.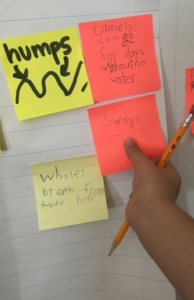 A student writing down new vocabulary she learns as she reads.
Final Thoughts
All of my students, including my reluctant readers, were motivated, enthusiastic, and became better readers because of this campaign. It is now part of the culture in my classroom for students to have choice in what they read during independent reading time. I plan to continue using book baskets. When students finish a set, they choose a new one.  I offer suggestions of topics they might be interested in reading and often they have a new set in mind based on peer recommendations. My students have read many of the sets already, so I will be putting more sets together (using the higher levels in my leveled library) as well as purchasing a few new books.  I have a student who is requesting a text set about sharks and a child who is really interested in wild cats. Their enthusiasm makes me excited to create sets on topics I know they want to read.