In my present role as a Teacher on Special Assignment, I am the sole ELA/HSS Curriculum Specialist in one of the ten largest districts in California. Although my responsibilities are vastly different than those I faced in the classroom, my objective remains the same: helping students achieve reading success.
In a district as large as ours, it is often quite challenging to provide consistent professional learning to the nearly 900 teachers at our 36 elementary schools. The sheer numbers, as well as lack of time and money, often create a logistical nightmare. This past year, when our superintendent called for a focus on early childhood literacy, we had to get creative on how we were going to move forward with this initiative.
During a meeting of the minds, we decided that it would be wise to first provide professional learning to about 70 Ed Specialists who provide services to special education students at each of our school sites. Our goal was to train them to be literacy "experts" who would be willing to collaborate with and be a resource for all our General Education teachers as they were learning to implement systematic phonics instruction for all students. Since we have Ed Specialists at each of our school sites, we hoped this strategic plan would encourage the type of "shared responsibility" between Special Education and General Education that our CA ELA/ELD Framework alludes to in Chapter 2. The expectation was that the Ed Specialists would utilize the literacy training they received to be a resource for classroom teachers as they sought effective strategies and protocols that would help meet the needs of their struggling readers.
A colleague from our Special Ed division and I were asked to develop and facilitate these trainings. I was absolutely thrilled to be involved with the planning and facilitating of these learning experiences. Honestly, I had been waiting several years for this opportunity to provide districtwide, professional learning around my greatest passions: Early Literacy, Reading Foundational Skills, and the science of reading. With the adoption of our new ELA curriculum, most of our teachers were feeling very comfortable with using rich, complex text for read-alouds and close reading experiences. Yet, we saw a need to build teacher efficacy around systematic instruction of foundational skills, particularly phonological awareness and phonics.
Having participated in the initial Student Achievement Partner's Foundational Skills mini-course last year, I turned to the SAP Foundational Skills Modules, along with additional resources from our ELA/ELD Framework, to guide our learning. By the end of the school year, all of our Ed Specialists had received the initial training, which focused on how an exploration of the Reading Foundational Skills Standards, the importance of access to rich, complex text for all students, an in-depth discussion regarding Multi-tiered System of Support (MTSS), and a discussion on how the framework defines their collaborative role.
Not long after we completed the initial trainings, I attended a conference at the Orange County Department of Education in which Carey Swanson, a Senior Literacy Specialist on the Advisory Support team at SAP, facilitated two of the sessions on early literacy and foundational skills. I sat up front and eagerly listened to her powerful message about the importance of systematic instruction in foundational skills, and I thought about how incredible it would be to incorporate this message in the second phase of the professional learning we were preparing for our Ed Specialists.
As I planned the launch of our fall training (the first of three that will happen this year), I felt it was important to inspire the hearts and minds of our teachers by first answering the question of why a systematic approach to early literacy–combining foundational skills instruction with rich, text-based reading and writing instruction–could prevent future reading problems. As the first day of training progressed, we impressed upon a packed room of Ed Specialists and administrators the critical role that foundational skills play in helping young students develop into proficient readers. This message inspired our Ed Specialists to willingly take on their new role of literacy expert at each of our school sites. Within the next several days I received several encouraging emails such as this:
" [This training] confirmed my belief in the importance of providing strong foundational skills for our students…[The message] excited me because now I feel that I have a better focus and plan for how I want to structure my reading and writing groups in the Learning Lab…I honestly feel that yesterday's in-service was the best one that I've been to in our district. Thank you so much for all your hard work to make it so worthwhile."
Collen O., Ed Specialist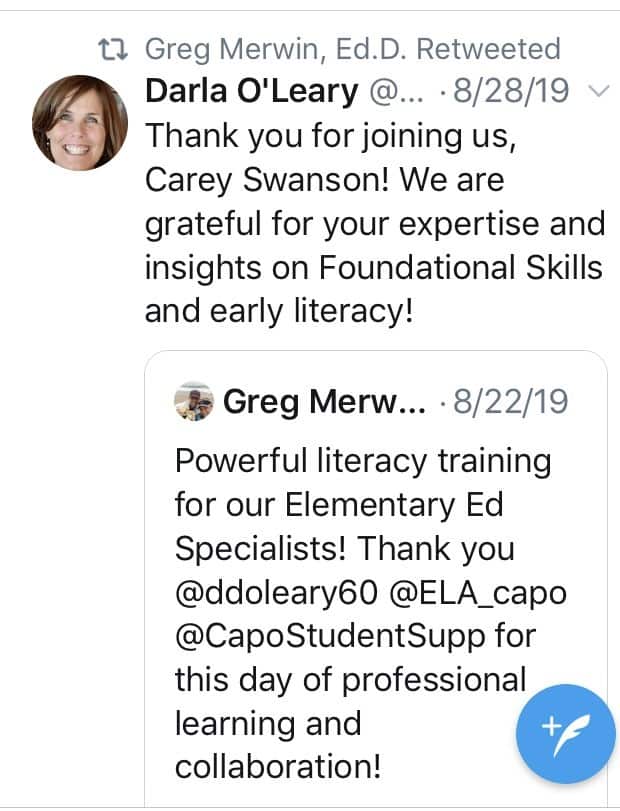 Since the training in August, we have seen our Ed Specialists take on more of an expert role at our sites. To date, nearly half of our elementary classroom teachers have also received professional learning on foundational skills. During these trainings, we explore our ELA curriculum and look for instructional routines and sequences that emphasize systematic instruction in the foundational skills and early literacy. I am also utilizing the SAP Foundational Skills modules in an 18-hour blended learning course that incorporates some face-to-face meetings, the online modules, and online Google Meet sessions. The professional discussions that occur during these trainings have helped to build teacher efficacy and a shared understanding about the science of reading. The full impact of these trainings may take several years to be realized, but we are well on our way and excited to see what the future will hold for our young readers.