Have you ever heard the quote, "We notice what we're looking for"? Perhaps you've watched this video, counted the number of times the team has passed the ball, then realized that you saw what you were looking for but missed other interesting insights. What does this mean for our work in classrooms and with students?
What we pay attention to matters. It's well documented that what we notice impacts our instruction and the learning opportunities of students in our classrooms. In Supporting Teacher Noticing of Students' Mathematical Strengths, Lisa Jilk (2016) states:

We are most often immersed in a culture that attends to students' shortcomings. We are unknowingly trained to identify learners' mistakes and misunderstandings. We analyze what students do not know or cannot do, and then we try to close the gap with what they need to understand. (p. 189) 
Jilk proposes that rather than looking at students from a deficit lens, we should look at students from an asset lens. What do students know and understand? What intuitive knowledge and resources do they bring with them into our classrooms daily?
In this post, we expand these questions to the lens of assessment. What happens when we shift our lens of assessment from looking for gaps and misconceptions to "fix" students to, instead, looking for what students do know and what can be built upon? We've found this move from a traditional deficit perspective to an asset perspective shifts the identity and agency of educators and students, as well as the culture of the classroom and school communities we are part of. Three teachers share their experiences:   
Michelle
As a first-grade teacher, I have shifted my focus when looking at student data. Now when looking at student data after a math assessment, I am not as concerned with the accurate answer but rather what strategies the student used to get to the answer. As a teacher, it allows me to determine what students know and plan next steps to deepen their understanding. Bobby, a student in my class, has been working on number sense. Bobby's mathematical understanding progressed in the fall through the instructional routine of counting collections. In his most recent assessment, Bobby solved several addition problems. In looking at his work, I noticed that he was able to identify each number in the expression, represent each quantity by direct modeling, add the quantities, and verbally tell me the correct sum. In looking at his work below, we see his written answers are inaccurate. By sitting beside and listening to Bobby, I developed a true understanding of what Bobby knows and understands, and have identified the next area to work on—written numeric representation. By looking closer at his work and listening to his explanation, I was able to recognize and build upon Bobby's intuitive knowledge, focusing on what he does know, and building upon that.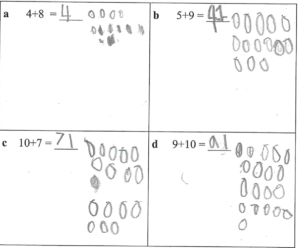 Shelly
I'm a third-grade teacher and this is the story of Leo. A quiet, timid student, Leo has been struggling to make sense of fair share problems. Today, after many days of ending up with little to nothing on his paper, he accurately represented a story showing four numbered stick figures and six squares and positing this problem: "Four friends share 6 brownies. How many brownies does each student get?" The square "brownies" are evenly partitioned and numbered according to which person gets that part. Although his final answer ("all of them get five")  is not technically correct, I can see that each person gets one half and also four fourths in his drawing. Each person indeed gets five parts of a brownie. Instead of feeling frustrated that Leo is not yet using words like "half" and "fourth" like most of his classmates, I feel encouraged by the understanding he demonstrates, and by his growth in willingness to try. I can't wait to help him share his work with the class.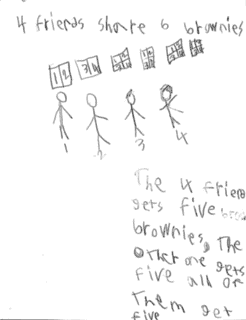 Christina
I also teach third grade. As I walked around the classroom while students worked, I stopped to observe Jose and question him about his response. Jose was working on the problem, "Ana baked 20 brownies. 5 brownies fit on each plate. How many plates does she need for all her brownies?" I could see how he represented the 20 brownies, with five on each plate. He didn't have an answer for the problem, so I asked him how many plates were needed. He quickly responded, "Four  plates." It was evident to me that Jose understands and represents the story. The next step is to work on representing it with an equation. In a traditional view of assessment, his answer might have been marked incorrect because he didn't write an appropriate equation, overlooking what he does know and identifying a clear next step.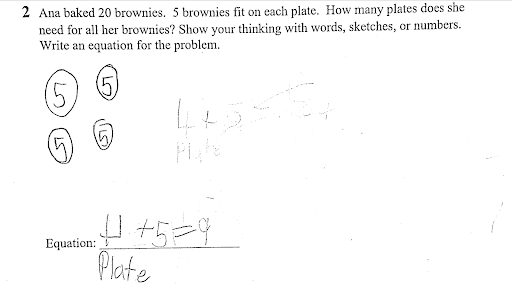 Assessments used to be daunting for this group of teachers. It was considered an obligatory act that produced data sheets that highlighted teachers' and students' shortcomings. Now these teachers are using meaningful data to understand how their students are making sense of math and building upon that knowledge to create competent sense-makers in their classrooms.
You can listen to the recording of the webinar, Assessment: Builder or Diminisher of Agency, Identity, and Learning? to learn more about the work these teachers are doing in their district and consider what this might mean for the students, teachers, and administrators in your district, school, or classroom.
References
Jilk, L. (2016).  Supporting Teacher Noticing of Students' Mathematical Strengths,  Mathematics Teacher Educator, 4(2), 188-199.