Foundational Skills (K-2)

As the building blocks of early reading and writing, secure foundational skills are crucial for students' success in literacy and so are key enablers of equity.
A robust body of research tells us that systematic, explicit foundational skills instruction is crucial for students as they are learning to read and write in English. Reading the words on the page is not just an end goal in and of itself, but a stepping stone that allows us to interact with and learn about the world.
Structured foundational skills instruction in English moves young readers and writers along a continuum of skills in four key areas: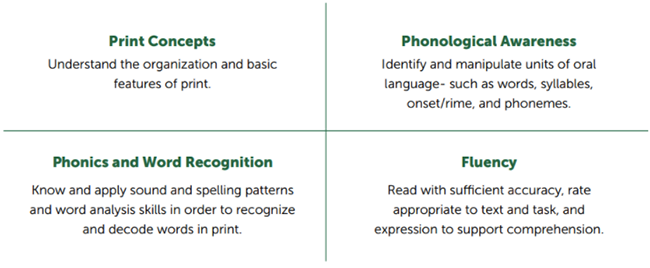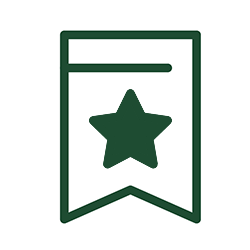 Foundational Skills Key Concepts and Terms. See this quick-reference sheet defining the key terms related to reading foundational skills, including the four key areas noted above.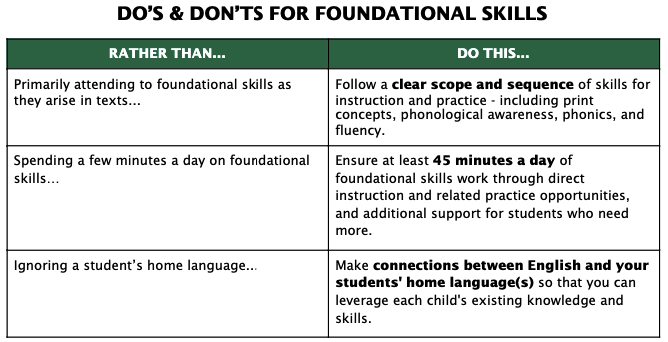 ---
Related Collections
Foundational skills, together with building knowledge and vocabulary, accelerate early literacy and form the "Early Reading Accelerators." See this Quick Start Guide for an overview of the Early Reading Accelerators and how we can implement them for all students. To better understand Foundational Skills, explore these additional Collections:

Early Reading Accelerators. The Early Reading Accelerators are essential content all readers must access to become proficient. This Collection provides an overview of the Accelerators, with emphasis on ways to implement these concepts in the 2020-21 school year.

Knowledge & Vocabulary. Reading ability and knowledge about the world are tightly connected. This Collection has techniques and practices to leverage and grow each student's knowledge of the world with their reading ability.
---
Resources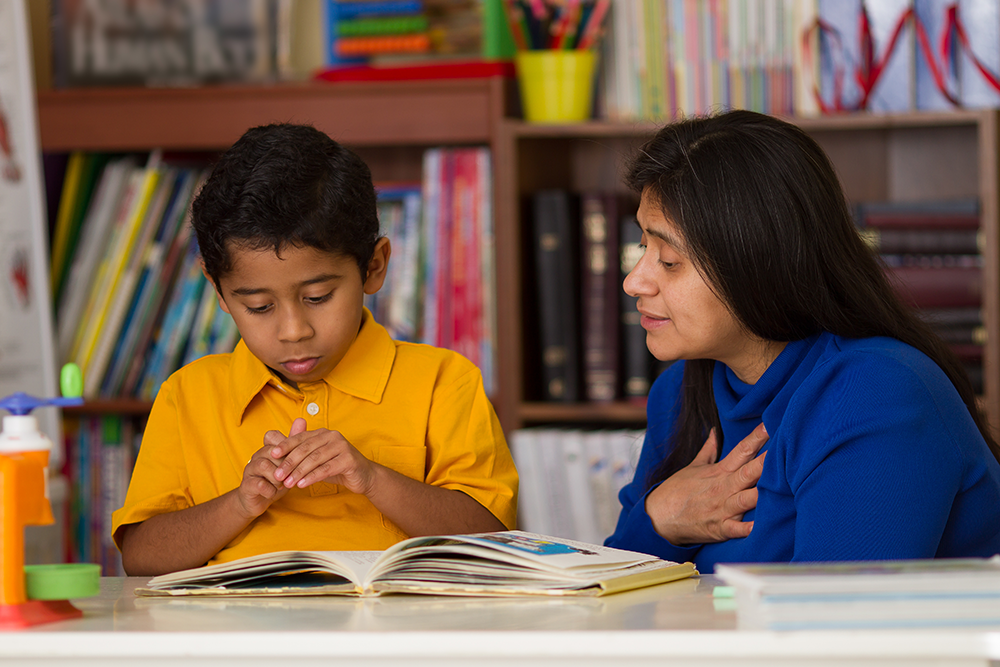 If you are an early-grades teacher, you already know that supporting students on their journey to proficient decoding and encoding is skilled, nuanced work. How do we know that we have the knowledge we need and are using materials and instructional practices that are research-based and supportive of students? Use the resources below to find out and to support your work with students.
Key Things to Know
Materials
My Practice & Student Supports
---
What About Leveled Reading?
Leveled reading approaches often do not include essential structured foundational skills instruction, or texts that match readers' needs. In the words of Professor Alfred Tatum, Dean of the College of Education at the University of Illinois-Chicago, "Leveled texts lead to leveled lives." Here's why and what you can do about it:
---
Coaches & Instructional Leaders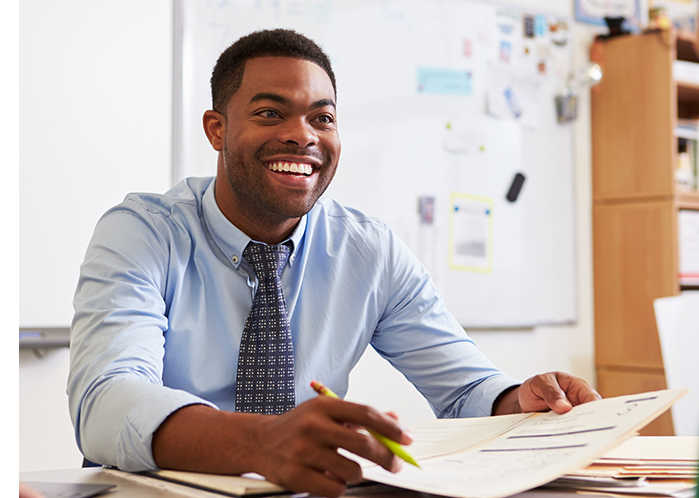 Coaches and instructional leaders do important work to support teachers and students engaging in the foundational skills Early Reading Accelerator. This instructional priority should be a hallmark of high-quality professional learning and coaching in the early grades.
---