08/10/21 | Adjusted: 09/17/21 | 0 files
Grades K-High School
Social, Emotional, and Academic Development (SEAD) in Math Classrooms
Prioritizing students' social and emotional needs is a critical component of creating safe and supportive learning environments. As teachers welcome students back to classrooms this fall, this attention to social and emotional needs includes helping students transition back to in-person learning, responding to trauma due to COVID-19, and reflecting on the increased visibility of systemic racism.
We are excited to offer a professional learning series specifically for K-12 math teachers, delving into practical ways to reflect upon and plan for math instruction that reflects Social, Emotional, and Academic Development (SEAD). We'll leverage a new resource, A Pathway to Equitable Math Instruction, specifically one of the workbooks that helps math teachers integrate Social, Emotional, and Academic Development (SEAD) into math lessons: Creating Conditions to Thrive: Environments and practices that support students' social, emotional, and academic development.
About the Series: This series will include two introductory webinars and an option to join a Community of Practice consisting of three follow-up meetings to plan for the implementation of SEAD in math lessons and reflect on successes and challenges with grade-alike educators from around the country. Participants can receive up to 6 hours of professional learning credit for the entire series, including 1 hour for each webinar and 4 hours for the Community of Practice meetings.
We apologize for the technical difficulties during the live webinar on 8/24. If you attended the webinar or watch it asynchronously and would like to be invited to the Community of Practice, please fill out this brief survey and remember to attend webinar 2 (details below) by 9/24.
Beginning the year with attention to students' social and emotional learning as well as their academic understanding, is critical for student success. No longer can social emotional learning and content be taught in isolation. In this webinar, the first in a two-part series, you will understand the need for social, emotional, and academic development (SEAD) in the content area of math and the connections between SEAD and equitable practices for teaching and learning. Current teachers will share resources that support students' needs while engaging them in grade-level content.
Focusing on social, emotional, and academic development has not always happened in math classrooms. In this webinar, the second in a two-part series, you will learn how the Standards for Mathematical Practice intersect with social, emotional, and academic development themes, and how they can be utilized in lessons to create a learning environment that focuses on both SEAD and strong, grade-level mathematics instruction. You'll be introduced to a lesson planning template that walks teachers through planning that incorporates SEAD into math lessons and hear from educators about how they've used it to improve their instruction.
Participants who attend both webinars (live or asynchronously) by September 24 will be invited to join our Community of Practice. This will be an ongoing collaborative space for grade-alike educators to share and reflect on strategies and best practices for implementing SEAD into their math classrooms. The Community of Practice meetings will provide teachers the opportunity to discuss challenges and successes of using the SEAD lesson planning template and integrating SEAD into their math instruction, as well as plan for lessons and instruction together. The agendas for the Community of Practice meetings will be largely determined by the needs and requests of the participants.
Participants in the Community of Practice will also have an opportunity to contribute SEAD math lessons to the bank of lesson plans hosted on achievethecore.org with credit and compensation.
Meetings:
- October 5 (7:00-8:15 p.m. ET)
- November 9 (7:00-8:15 p.m. ET)
- December 7 (7:00-8:15 p.m. ET)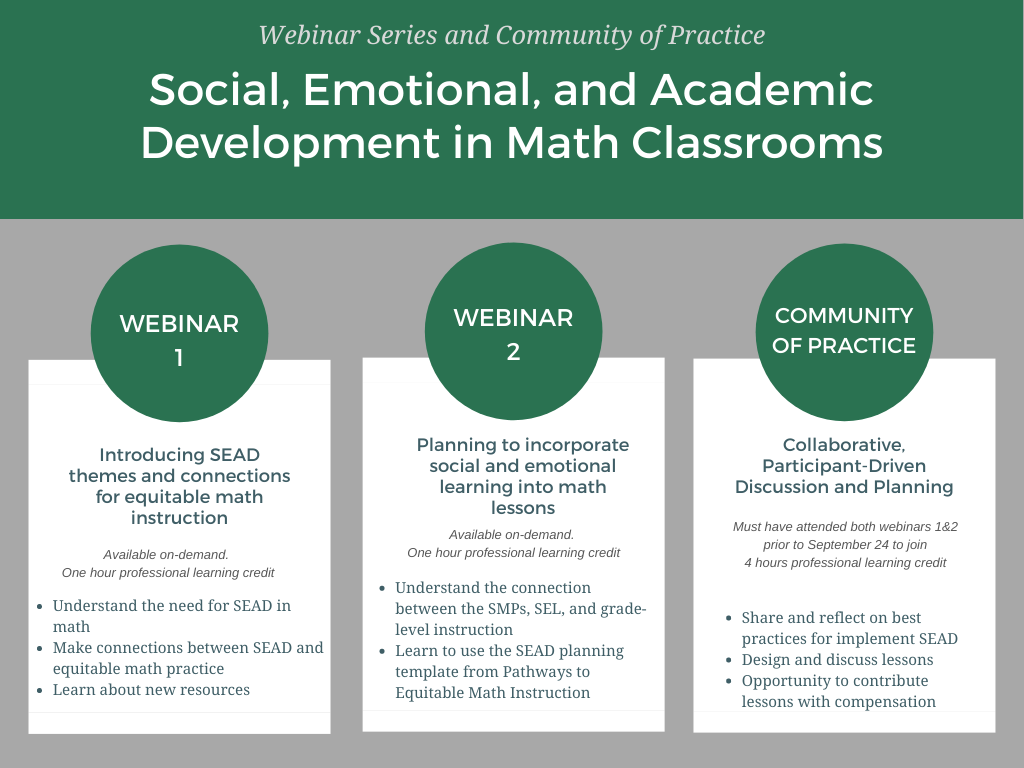 If you're accessing this page on a mobile device, registration for the webinars is available under "files."
Send Feedback