As we shared in a previous post, part of our design work in the development process was piloting the process. Our team was fortunate enough to partner with the mathematics team from South San Francisco Unified School District (SSFUSD) to test out this work. We recently sat down with Karie Mullassery and Sathya Seigel, the high school and elementary math teachers on special assignment in SSFUSD, to hear about their experiences while engaging in this partnership. Some snippets of our conversation are below.
Why did you want to engage in the Landscape Analysis process?
Sathya: As we were getting ready to move into curriculum adoption for kindergarten through 12th grade, I really wanted to make sure that we had an awareness of the current conditions in our district. We wanted to know where our students and our teachers might need support. I hoped that by doing this process, we would be better set up to find a curriculum that's going to work to support both our teachers and students.
Karie: Our main catalyst in this is our textbook. Our textbook is out of date, and we needed a new textbook for our district across K through 12. So our curriculum is just very old and, um, does not, is not meeting the needs of our students. So we really wanted to begin this process in order to get data that we could use and see what our needs were, um, when adopting a new curriculum.
So how did you go about the work?
Karie: Our partnership with SAP took place over the course of the last six months, and we really followed the steps outlined in the Landscape Analysis. So, we started by laying out a general timeline and worked to ensure that we had enough participation without burning people out. Then we sent out invitations to teachers, students, parents, and administrators and gathered the team. We had the opportunity to meet several times, and our first all-day meeting got us through the first two steps of the process: establishing the team and beginning to build a data collection plan.
Sathya: From there, we took the inputs from our team and created a data collection plan, and we built out our surveys, focus group, and empathy interview tools. Then, we took about a month to gather all the data. We were able to gather a ton of data; we collected over 900 student survey responses, conducted several focus groups with students and teachers, and engaged in empathy interviews with teachers, administrators, and parents.
Karie: Then we held our in-person data analysis days (pictured) where we worked with our team to analyze our data and determine trends and themes around instruction in our district.
Our final meeting allowed us to synthesize outcomes and set priorities for our work ahead.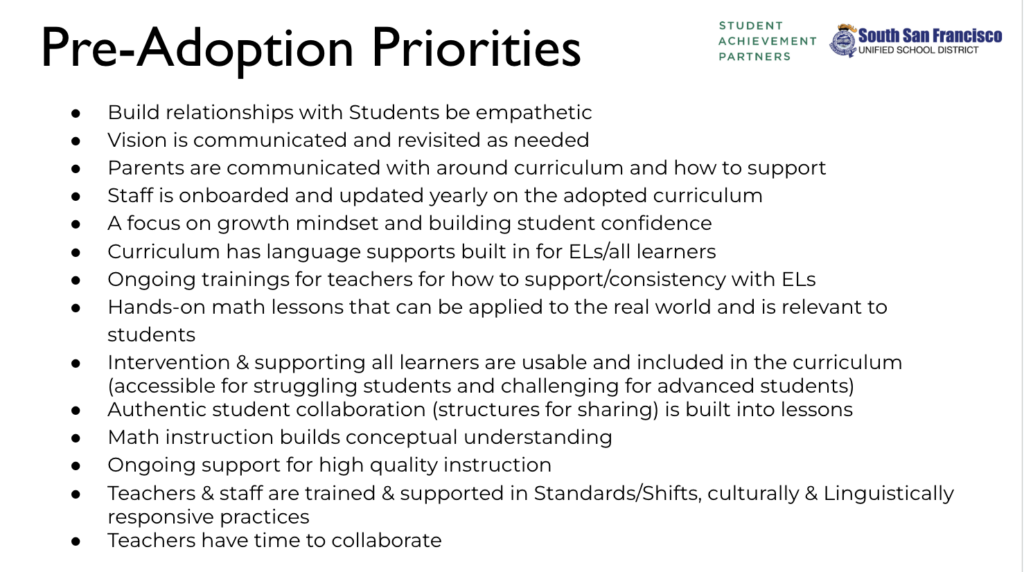 What have you learned by engaging in this process?
Sathya: As employees at the district office, we sometimes tend to have sort of tunnel vision and really have a hard time breaking out of our perspective. Reading the survey, data, focus group, and empathy interview statements from across all of the different stakeholder groups showed us so many things. And we were surprised by the ways that different groups, for example, our teachers and our administrators talked about wanting more training, more ongoing training. And then we hear our teachers and our students talking about feeling this pressure to get through the curriculum rather than really having the time to have a deep level of learning. I think that really gives us a fuller picture of what we need, and it is going to inform how we select materials; we know we want to look for something that has good embedded teacher supports built-in, as well as time to really wrestle with content.
Karie: This process has helped us to see that selecting materials is just the start. Changing our system is not going to just be a quick fix; it's going to take us several years. And this is really going to guide us in what each stakeholder group needs. So, what are our students going to need? What are our teachers going to need? What are our administrators going to need? And what are our families and caregivers going to need in order to support our entire district? We have a better picture of that now.
Now that you have completed the Landscape Analysis, what has been the impact of the work?
Sathya: Well, to start, we now have a set of clear priorities for our adoption work.

The Landscape Analysis gave us our priorities, which helped us to create a district lens that we used to construct a materials evaluation rubric to use to evaluate curricula based on the needs of students in our district.
Maybe more importantly, though, we have buy-in from stakeholders and respect from our district. We know our learning community engaged with us to inform this work, and we are excited about how it will help us better meet the needs of our teachers and students.