It is common knowledge to read to children early and often. We also know that providing students with windows and mirrors through literature can be a powerful way to create an inclusive and culturally responsive environment. Knowing this, it makes sense to capitalize on a general appreciation for literacy and culturally relevant pedagogy by utilizing both in mathematics.
In the field of mathematics, many educators have distanced themselves from literacy, failing to recognize the symbiotic relationship between both content areas. There is an absence of literature in the math classroom. Books offer opportunities for mathematical thinking, context, and cultural relevance. So why have we taken the joy of reading, and I'm not talking word problems, out of the mathematics classroom?
As a math curriculum specialist for a large urban district, I have the great privilege of advising teachers about what resources they use in their classrooms and how they use them. I have long seen the need to use literature in mathematics and the critical importance of empowering students to see themselves in the math classroom. What does a great mathematical thinker look like? How can I be a part of dispelling the myth of what makes a person good at math? How can I help ALL children in my city see themselves as great mathematicians? How can we use books in mathematics to support this work?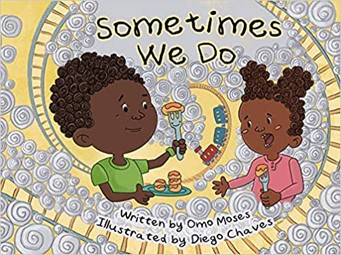 I began a deep dive into researching culturally inclusive books that could be used within the mathematics curriculum. In my search, I came across the Mathical awards given to outstanding books selected by the Mathematical Sciences Research Institute (MSRI), in collaboration with the National Council of Teachers of English (NCTE) and the National Council of Teachers of Mathematics (NCTM), and in coordination with the Children's Book Council (CBC). I used their book list as a place to start collecting high-quality math books.
Once I dug into the Mathical list, I started to wonder if there were books left off that list that should be considered. I then Tweeted my question to the math Twitterverse and soon learned of more amazing books that may not have received the Mathical award yet, but are worthy of being included in this work. Titles like Sometimes We Do by Omo Moses and The World Is Not A Rectangle: A Portrait of Architect Zaha Hadid by Jeanette Winter were just a few of the many recommendations I received from other math educators around the country.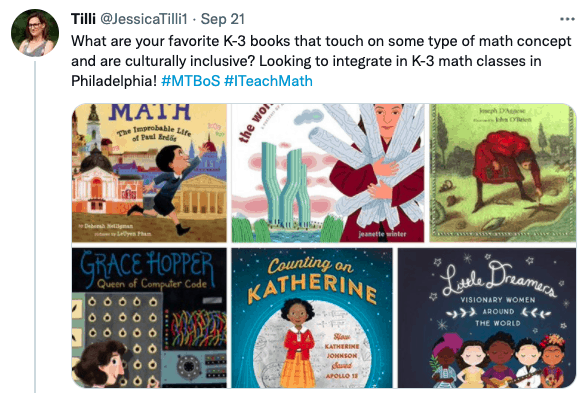 Some of my initial thoughts about integrating these titles into the math classroom include using them as a way to provide context to a new unit. For example, in kindergarten, teachers could use The Name Jar by Yangsook Choi or Alma and How She Got Her Name by Juana Martinez-Neal to launch a unit on counting. As a performance task, students can count the letters in their names, compare the length of their names to their classmates, and celebrate the names of every student in the room. In second grade, teachers could use Counting on Katherine: How Katherine Johnson Saved Apollo 13 by Helaine Becker and Dow Phumiruk as a launch to a unit that has themes of inequity and the remarkable contributions of historically underrepresented people of color.
After some of the horrific events that unfolded in 2020, the NCTM issued a statement on George Floyd, Breonna Taylor, and Ahmaud Arbery and named three charges to all teachers of mathematics that said:
"We support the use of mathematics as an analytic tool to challenge power, privilege, and oppression.
We encourage all educators to challenge systems of oppression that privilege some while disadvantaging others.
We encourage all educators to create socially and emotionally safe spaces for themselves, their students, and colleagues."
If we are to truly be purposeful and intentional in dismantling racism in mathematics, we must find ways to elevate our students of color who have been marginalized in our education system. One way to do this work is by making sure they are reflected in the mathematics curriculum.
My next step is to get a copy of every single book (my list is now over 80 books)! Once I have the books in hand, I will spend time figuring out where each book fits into our math curriculum. The idea of having thousands of children exposed to intentional read-alouds in math classrooms across my district is one that is exciting! Even more thrilling is the idea that children will have opportunities for windows and mirrors beyond the literacy classroom!