After seven years on the job as an instructional coach, I think the best tool I ever started using is a digital coaching menu–something I made myself! Using the menu, which is a Google Form, has maximized the impact I've made. Here's why it has been such as success.
Get to Teachers When They Need You
I have found that contact must be easy and timely for teachers who want to work with a coach. This can be complicated if you are serving multiple schools as I do, but the digital coaching menu has made me more effective–and more sane! One of the most important elements of the menu is asking when teachers would like to collaborate. My menu allows teachers to choose "as soon as possible," "this nine weeks," and "sometime this semester." Before including this information, I would urgently meet with teachers who had non-urgent requests as well as meet up with teachers who'd say, "I really needed your help — two weeks ago." I can now prioritize requests and check in with teachers to schedule times that work for their needs.
Teach Your Job
As an instructional coach, you may be the only person with your job in the school building. Coaching is still new to some educators, and many misperceptions may exist about your role. Some coaches are railroaded into administrative duties, while others may become entrenched in side duties like party planning or tutoring. A coach's role should be to positively impact student learning, so I make sure I include options that support teachers in standards-based instruction like reading complex texts, writing in their content areas, and learning new vocabulary–topics that I know are directly tied to increasing student achievement.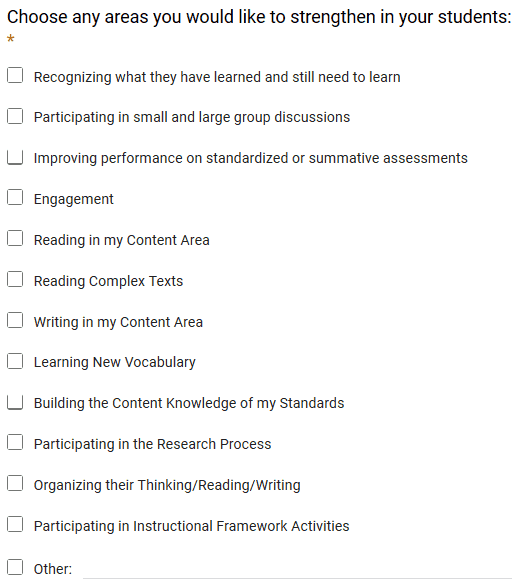 The coaching menu can explain the scope of your role as a coach in a friendly way, and help structure conversations that focus on the content that matters most. If your work is not defined, you will be asked to do all sorts of activities that ultimately have no impact on learning.
I also offer a wide range of ways that I can provide support: co-planning lessons, reviewing data for decision-making, modeling a strategy, observing and providing feedback, and more. This can help teachers think creatively about the coaching support that would be most effective for them.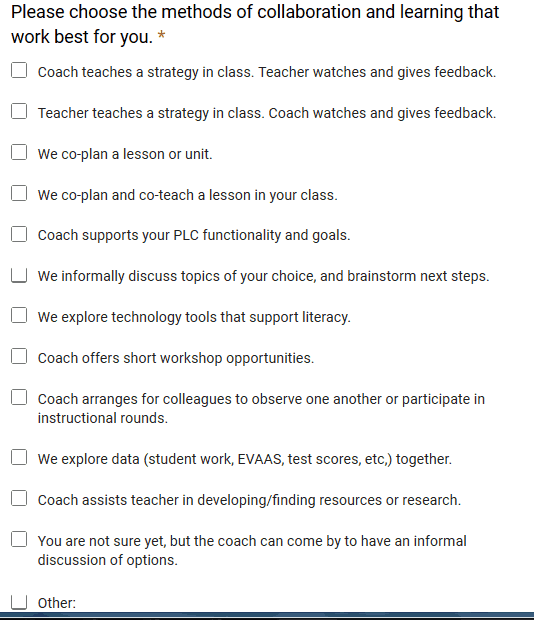 Get More Coaching Requests
A digital menu is just an easier way to have people ask for coaching. For example, a menu sent to teachers early in a semester elicits many responses because teachers usually have clear goals in mind. If the school's culture has not fully embraced coaching, individual teachers who want to participate will more likely respond to an electronic survey in private than ask for coaching in front of their colleagues. When teachers see clear examples of how you can work with them, they have better understanding of how coaching can help them reach their goals.
Save Time in Coaching Cycles
When I first began coaching, I found myself in many stifled or awkward conversations that sometimes led to collaboration and other times led to more awkwardness. The coaching menu clearly explains how you can work with teachers. When teachers make a request, they can choose the options that meet their professional goals. I receive those options well ahead of seeing the teacher face-to-face, so I can prepare for our first meeting. When we meet, we have a natural entry point into working together because I can reference the goals and activities the teacher selected on the coaching menu! Their responses also give me an idea of the depth of the coaching required so we are on the same page. We both know how will spend the time in the first meeting — whether it's informal brainstorming or setting up planning and co-teaching parts of a unit. Keeping "the end in mind" is a time-efficient way to get started and to build trust with one another!
Having a digital coaching menu has given me more work, but it's work that has far greater impact. If you are an instructional coach serving a large number of teachers, this tool will really improve your impact and reach. Feel free to adapt my coaching menu and use it in your own settings!