This blog post was originally published on the Inspiring English Language Learners blog on April 21, 2018, and has been republished with permission from the author.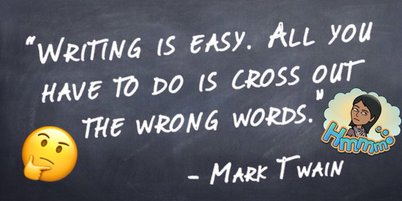 With all due respect, Mark Twain, I don't think that's the case for English Learners (ELs). From an EL perspective, I can tell you that writing in English is not an easy task. As a matter of fact, there is a whole lot of crossing out when we do write!
While administrating the annual English proficiency test, I realized that several of our Kindergartners and first-grade students were having a very difficult time during their writing part of the assessment. Kindergartners are expected to be writing at a sentence level and first graders are expected to be providing entire stories. It was very easy to sense the frustration my students were experiencing as they felt unable to provide the required written tasks.
I immediately started thinking about ways to provide multiple opportunities that are authentic and meaningful to empower my students to end the school year strong in reading and writing.
Simple Mentor Text to Fortify Output
I thought about using a very simple mentor text that would provide all elements needed to ignite a "retell" written assignment for students. The objective was for students to be able to provide a retell written piece that would provide all the characters, a sequence of events, and complete sentences.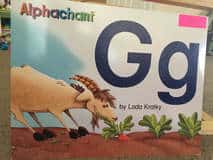 ​
I decided to use one of the books from our Alphachant Phonics K: Phonics Kit  because we had already read it so they were familiar with the text. The story consists of only four sentences but mentions three characters,  multiple settings, and characters' feelings.
After re-reading the text, I posted a slide with the three characters (in random order). Students volunteered to line them up in the correct order. They dictated the name corresponding to each character and I added it to the slide. We also learned the transitional words we needed to use in order to retell the story in the correct sequence.
The purpose of adding these words collaboratively was for students to have these words as a support and resource during the written assignment.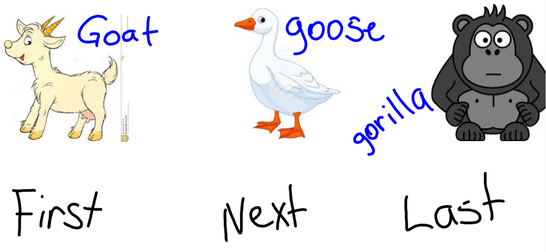 After adding the words to the slide, students turned and shared with their partner again; this time they had a lot more to discuss since they had the text on the slide as a guide.
Drawing and Writing
Now, the process for the writing was a little different for Kindergarteners than it was for first graders. I strongly believe in scaffolds and also free-write opportunities for students to feel free to just add text.
This is how I differentiated writing for Kindergartners and first graders: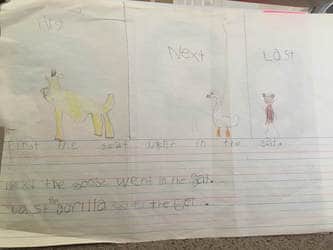 Kindergartners: They received a big writing sheet divided into three sections. The sheet we used is perfect because it has a blank space for above illustration and writing lines for text right below! Perfect for beginning writers. Together we discussed where to write our transitional words: First, Next, Last. Students added a drawing of the character in the corresponding section. Then began to add complete sentences as to what happened to each character.
First graders: With first grad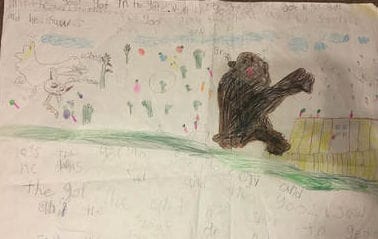 e, I thought about giving them a little more freedom with the writing. They were just provided a big blank chart piece of paper and they were to add all the elements needed to retell the story. They were instructed to be sure to include all the characters, settings, detail, and feelings characters were experiencing. After they completed their illustration, they were to share their illustration with a partner before beginning the written part. For first graders we made it clear to make sure all the necessary transitioning words were evident: First, Next, Then, and Last! Some students were challenged to think of a different ending – and a lot of them got very creative.
Adding Technology to our Lesson 
If you have not used WriteReader in your classroom, look into it right NOW! My students LOVE this app! The fact that they can become authors of their own stories fascinates them. This is a very user-friendly app that allows you to create a class and it is easily accessed by students. When students finish publishing their book, they can share with the class and/or read each other's book. Creating our digital books was not hard since students already had the information they needed on their charts/sheets.
When it came to their illustrations, they had two choices: take a picture of their drawing or search for an appropriate image using the search feature embedded in the app!
Sharing Our Work!