When Rebecca Kockler and her team at the Louisiana Department of Education designed their new review process, they knew that they would be sharing the results of the reviews with the world. They recognized that districts in Louisiana would be the primary consumers of the information, using the results of the review to inform purchasing decisions, but they also knew that a broader audience (including leaders from other states, classroom teachers, parents, and publishers) would also have an interest. "Everyone is concerned about the quality and alignment of instruction happening in classrooms, so everyone is a consumer," said Kockler. "That's why we made them public."
With such a wide-ranging audience, the Louisiana team was conscious that the way they conveyed the findings needed to be accessible and meaningful to everyone. They decided to house the review findings on the Louisiana Department of Education website, Louisiana Believes. Since the reviews have grown over time (see Part 3 of this series for more information) the site now shares the review outcomes for
Full curricula
Interim benchmark assessments
Supplemental tools
Remediation tools
At the top of the review page, they defined the tiers they used to rate the materials. The tiers have also helped the state team to identify places for key PD support for districts as well as to prioritize the tools and supplementary resources they designed to fill the gaps in tier 2 and 3 materials.

Beneath each tier, they list the instructional materials, supplemental materials, and benchmark assessments that met each tier's requirements.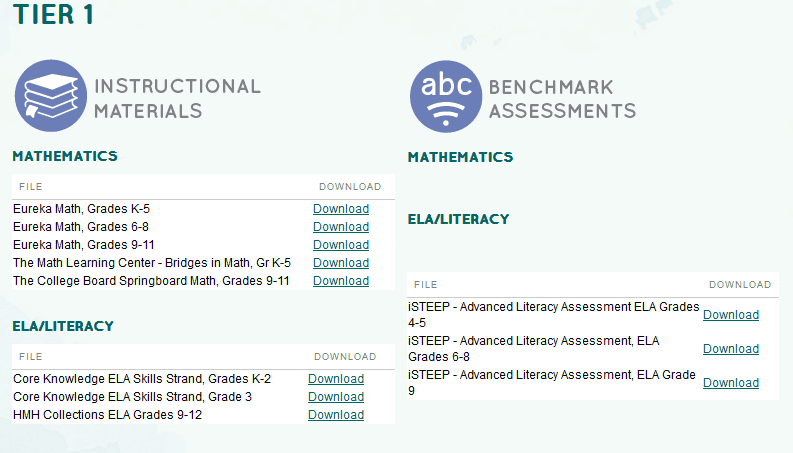 The completed review rubric is available for every material that has been reviewed, so that everyone can see the strengths and weaknesses of each material, as well as the evidence for why it passed (or didn't pass) the rubric's different criteria.

To help local education leaders dig into the findings even more, the state leads six collaboration cohorts made up of the chief academic officers, chief talent officers, and chief assessment officers from across the state. "Every quarter we meet with each cohort and help facilitate a process of looking through materials and assessments using our instructional materials reviews where helpful. Then, our network teams and instructional and support coaches, work with districts individually to create a plan to supplement and implement resources" said Kockler. The cohort comes together to collaborate and improve instruction by:
Analyzing their current curricular programs and identifying gaps
Engaging in collaborative discussions about the trends in misalignment issues across materials that different districts have purchased
Learning from their peers as individual districts share what they're doing and the resources they're creating
How did the team at the Louisiana Department of Education support educators who realized their materials weren't aligned? Find out in Part 5 of the Louisiana Case Study Series.