Great ideas are born out of necessity.
Even the most organized teachers can agree that consistently collecting anecdotal notes and data points from each of our students is a challenge. When I taught fifth grade, I created schedules, templates, checklists, but never felt particularly satisfied about the data I was receiving. More importantly, the data I was collecting felt more like isolated grades than opportunities for growth and feedback. I needed a better system.
It was during a reading of Visible Learning For Mathematics (Hattie, et. al, 2016) that I began to get some clarity around which practices would have the greatest impact on my students. For those unfamiliar with the book, John Hattie (University of Melbourne) and his colleagues set out to answer the question: "What works best in education?" They looked at the effect sizes of different education practices and student achievement. They synthesized years of education research and then ranked the practices according to effect size.  When I looked at the top five most effective influences on learning, I thought, "What in the world would that look like? How might that impact look on my students?"
I figured I should start with the top influence reported in the book[1]: self-reported grades. Not only would this grant me more flexibility, but also give my students autonomy and ownership of their own learning. As a fifth grade teacher, I made this the goal. In the back of my mind I knew that, in a few short months, my students would leave their small world of elementary school behind and some would struggle with the transition to middle school. Helping them take control of their own learning would be an important skill for their future education.
I started small and manageable: multiplication and division. At the time, we were practicing five randomly generated multi-digit problems a day. I gave every student grid paper and had them create a bar graph. I modeled for them how to label the axes, the title, and the scale. All they had to do was create the bar graph based on their score each day.
This process of tracking progress in data binders started out extremely directive: we had never tried anything like this. But, seemingly out of nowhere, it took off. The students enjoyed monitoring their progress. Maybe it was trying to reach a goal that they set for themselves, maybe it was choosing when to make their graph for the day, maybe it was being able to choose fun colors, or maybe they felt relieved that I was giving them the space to be independent. They were taking ownership and had motivation to improve their own learning!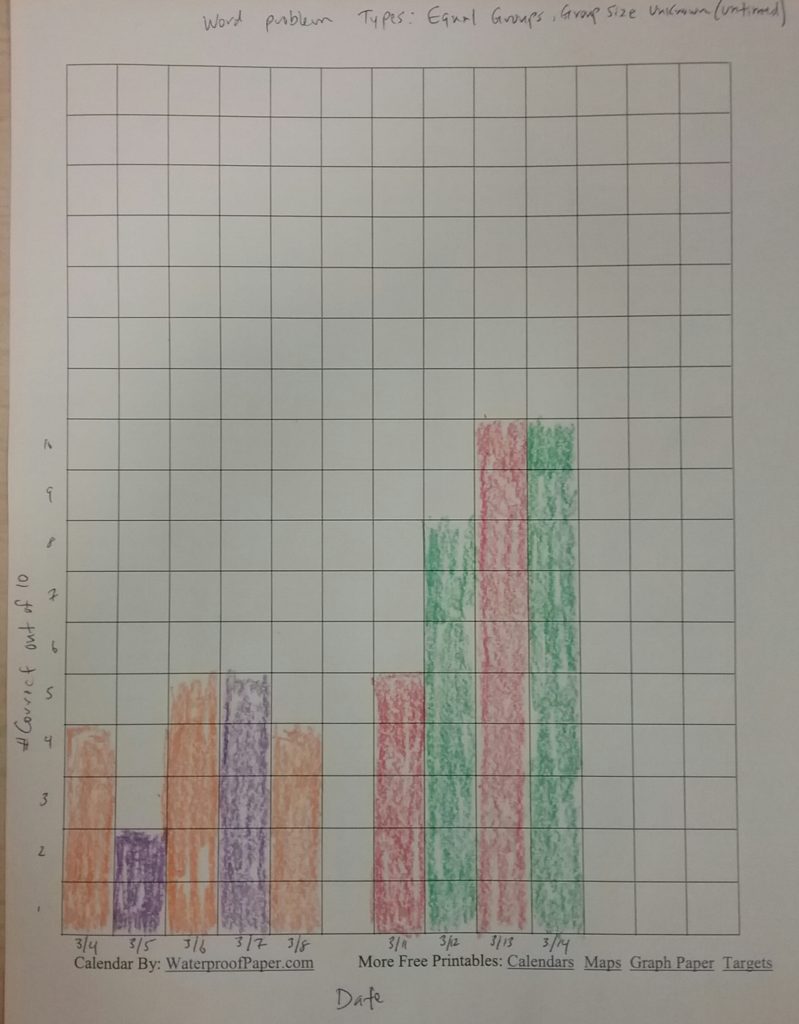 The binders changed over time. Students picked up grid paper when they needed, and they monitored their personal and academic growth in number of areas (word problem types, vocabulary words, spelling, self-affirmations, the list goes on). These binders have helped facilitate student-led conferences, which made conference time much less stressful compared to previous years. It's awesome to see your students talk about their learning with pride.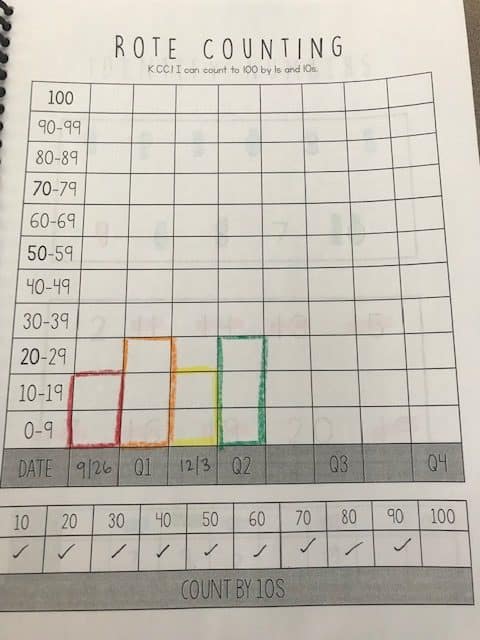 These binders are manageable, easy to put together, and student driven. Here are a few tips on how to start your own:
Step 1: Gather your materials. Stick to the essentials: You'll want  binders, grid paper, and markers for every student.
Step 2: Pick a Major Area of Focus to monitor. If you aren't sure where to start, check Achieve the Core's Focus by Grade Level. This ensures you are keeping track of a piece of critical learning.
Step 3: Create or find some tasks to monitor. This depends on what you are monitoring at first, but make sure it's succinct, replicable, and something that students can score quickly and accurately.
Step 4: Practice using it. Like most habits, if we don't use it, we lose it. If students aren't regularly monitoring and assessing themselves, we will never see the full effect of Hattie's research.
Step 5: Give students the opportunity to lead in this. While you are certainly going to tell students what goes in the data binders, be sure to let students put in their own pieces of work. Not only does it increase their motivation to learn and succeed, but also, at the end of the year they will have a comprehensive look at their growth throughout the year. Watching students look back at what they have achieved is nothing short of amazing.
It is also important to note that meeting with students regularly to discuss their data collection is critical. It gives the student an opportunity to share successes and areas of growth, and gives the teacher the time to help refine or create goals for the students. Making a weekly or monthly schedule helps to manage your time by meeting with only a few students a day.
What started out as a way to collect quantitative data in a timely manner turned into a way to get my students to truly buy into their own education. If we are committed to making education a means for students to grow and become successful in themselves, then it's time for us (the adults) to give them the space to grow into who they are going to be. Data binders serve as the tangible way for students to become self-sufficient individuals.
[1] A 2017 update to the list now ranks "self-reported grades" as the second most effective practice after "collective teacher efficacy."