My district went one-to-one (one tablet for each student) for all high school students this year, so I found myself looking for ways to incorporate meaningful and purposeful technology into the classroom. Enter Pear Deck! Pear Deck is an online platform that was "built by educators for educators to create interactive presentations with unlimited storage for 100% student engagement and real-time formative assessment" (@Pear Deck. Twitter, September 2013). From my personal experience I can say this is not just marketing claims, but is completely true. Using this free platform (there is a paid version, but I've found the free version works perfectly for my needs!) strategically in my classroom has allowed me enhance my math instruction and provide more real-time feedback–plus the students love it! What you'll see below are my own reflections on how Pear Deck can support classroom instruction; I am not affiliated with Pear Deck, nor do I receive any compensation for sharing my opinions–this is all just my honest experience.
I chose to try Pear Deck for the first time in my Math 1 classroom while teaching students to graph systems of linear inequalities. With this topic, there are so many steps involved in getting these accurate that it is very difficult for me to check all of the students' progress as they are working. By allowing me to see what the students are writing or typing on their screens, Pear Deck allows me to provide instant feedback and correct mistakes while they are happening–something I couldn't do trying to look over shoulders! It also helps facilitate my class discussions by allowing our class to discuss different student responses. This is a great way to make sure all students get to participate in the discussion, not only the ones who are always eager to share.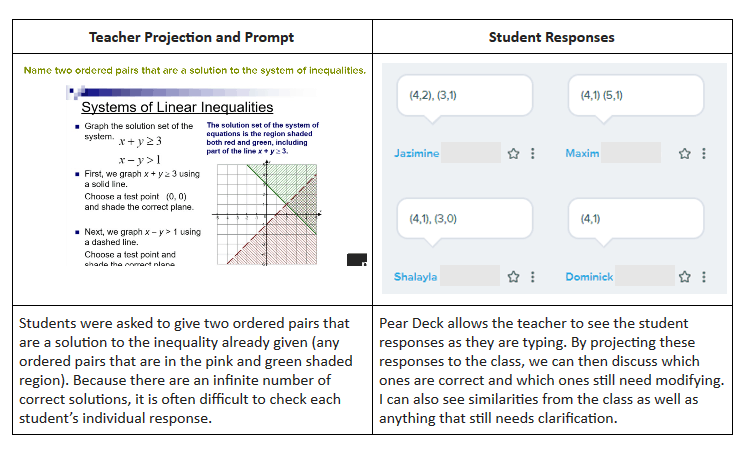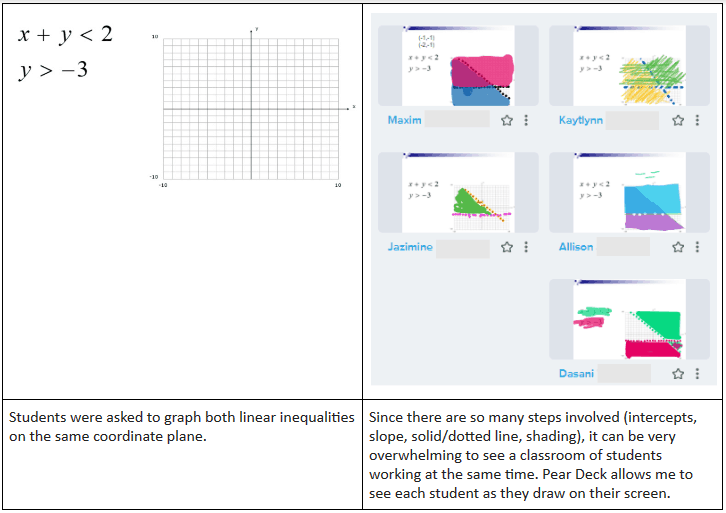 Students can continue to edit their work and change responses until the teacher locks their screens. I usually wait long enough to make sure that all students have had a chance to answer the question and typically give them a one-minute warning before I lock their screens. If I see a majority of students are incorrect, I will stop them more quickly to guide them back on track. Three of my biggest tips: 1) Make sure you are familiar with the presentation before giving it (especially if you are using one from another teacher). 2) Be honest with the students. Tell them that you are learning this software with them. Transparency is key! 3) Don't be afraid to try it! I have found that students are forgiving with teacher error when the teacher is trying to incorporate more fun activities for the class.
Another way in which Pear Deck has changed my classroom is by allowing multiple opportunities for formative assessment. Pear Deck currently offers the following interactive options: multiple choice, true/false, entering a text, entering a number, writing on slides, and draggable slides. By being creative with questioning, I have been able to ask students various questions that give me insight into how they are doing with the current material. I can then use this feedback to help determine where I might need to provide more instruction to the whole class or where specific students might need extra support. Below are some examples of how I have used Pear Deck to aid in formative assessment.
Pear Deck recently partnered with Google and can now be used with both Google Slides and Google Classroom. Since all lessons are stored in Google Drive, Pear Deck allows teachers to share lessons and collaborate with each other before presenting to students. In Google Slides, teachers use an add-on to insert interactive questions directly into their presentation that then can be directly presented from Google. By partnering with Google Classroom, Pear Deck can now sync with student accounts allowing them to log in and save their work. At the end of each session, the teacher is given the opportunity to share the slides with the students, giving them a digital copy of their lesson and work. This creates a portfolio to show growth and progress.
I was hesitant at first to implement a piece of technology into my classroom with no training. However, I found that this platform was intuitive and easy to use for both myself and my students. I found myself sharing the lessons I created with other members of my department. By using Pear Deck, my students are engaged in the learning and receive immediate feedback. In this next school year, I plan on using Pear Deck more in Math 1 and implementing it in my other classrooms. Tweet @achievethecore, @JNCTeach06, and @peardeck to share how you will implement a lesson this year. Who knows, you may even get a shoutout from Pear Deck on Twitter!