In this post, the design team behind a new text set prototype shares insights from their process thus far. This draft Text Set Guidance, available here, aims to help educators build their own text sets to support culturally relevant instruction.
What was the inspiration behind the new culturally relevant text set guidance?
In her book Cultivating Genius: An Equity Framework for Culturally and Historically Responsive Literacy, Dr. Gholdy Muhammad writes about the value of teaching criticality:
"When youth have criticality, they are able to see, name, and interrogate the world not only to make sense of injustice but also to work towards social transformation. Thus, students need spaces to name and critique injustice but also to work toward social transformation" (p. 120).
Our work has long focused on using texts and multimedia resources organized coherently around one topic (called "text sets"), and we've seen the way in which this type of topic-based learning fosters student engagement, curiosity, and community. Traditionally, the value of this work was focused on this connection to building knowledge and vocabulary as a scaffold towards more complex text. But as our team has continued to prioritize culturally relevant pedagogy within text analysis and use of materials (e.g., Centering Black Brilliance and Disrupting the Canon), we realized that the value of text sets to address criticality and cultural relevance had the potential to be highly impactful for students in the classroom.
We set about this work thinking of the intentional work teachers and curriculum providers must do in order to present students with content-rich learning that makes use of counternarratives for traditionally one-sided stories, connects to current events, honors the role of identity and language, attends to multiple perspectives, and promotes agency and action. This guidance distills these complex ideas into some clear and actionable steps educators can take, and the sample text sets show this work in action.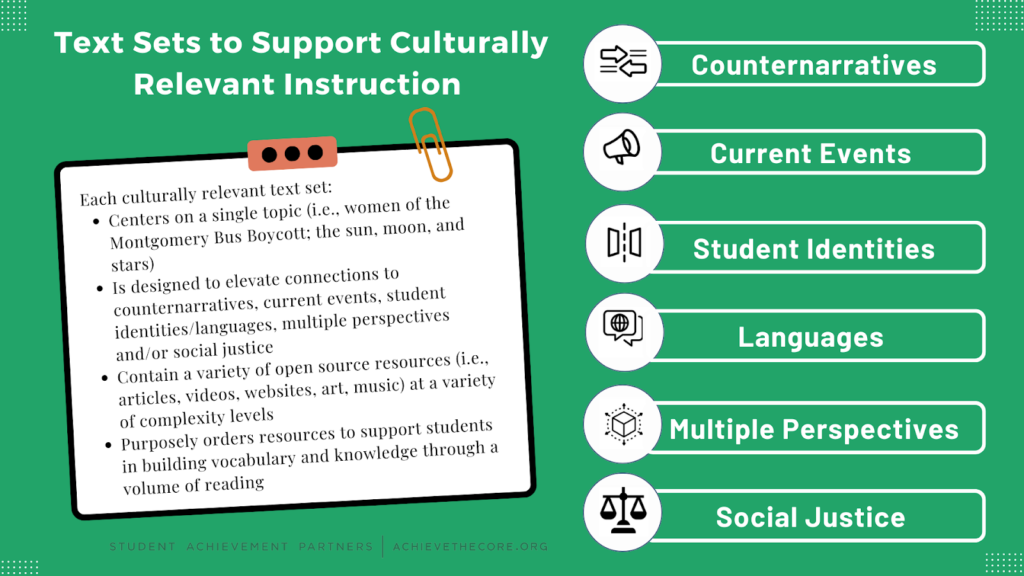 What We Learned
The new guidance asks you to start with a topic or unit in mind that you want to interrogate and supplement in some way. While it was often easy to identify a topic, it was much harder for some of our team members to figure out what specifically within that topic would be the focus of the text set. For example, for a unit on "European Exploration of North America," do you focus on the impact colonizers had on indigenous populations? Interrogating the characterization of these explorers? Digging into the impact exploration had on the environment? Elevating histories and voices that were left out of the unit? Your chosen topic can provide both an exciting opportunity to highlight criticality in an impactful way, as well as a challenge in determining how exactly you want to do that.

Once you've figured out what your text set will center on, analyzed your unit or existing materials, and done some internal reflection, it's time to find resources. Enter another set of opportunities and challenges. For our team, the best part about putting a text set together was finding a wide range of text and multimedia to use from songs and art to videos and articles. Virtual museums, collections, and texts provide so many options to choose from. Unfortunately, there aren't always age-appropriate resources available.
Consider the explorers unit mentioned above. How many resources would you expect to find that present a nuanced account or counternarrative that are also written for second graders? Our answer: not many. Our team struggled at times to find resources that included the perspective, voice, or information that we wanted to highlight. We encouraged each other to find resources that fit the topic and consider what adjustments or scaffolds we could use to make them accessible for students (e.g., subbing/supplementing with a multimedia resource, pulling an excerpt out of a longer or more complex resource).
As our team built text sets, we often stopped to reflect on whose voices were being included (and excluded) in the selected resources. Islah Tauheed, Assistant Principal in New York City, asked herself, Which different identity markers am I including in this set? While working on a text set to expand perspectives in a unit about Athlete Leader of Social Change, Islah noticed that she highlighted racial and gender diversity, but she hadn't included much body size diversity. This led her to curate some additional resources to make her text set more inclusive using an additional lens. Another educator text set designer, Crystal Graham, noted that considering perspectives should also attend to authorship. As Crystal thought through what would be needed for a text set for this same unit, it was important to her that she include autobiographical resources: "I wanted to go with the athletes' own words…I like to hear people tell their own story and that's important for scholars to understand themselves." Crystal's thinking focused on looking for athletes' autobiography excerpts and interview videos.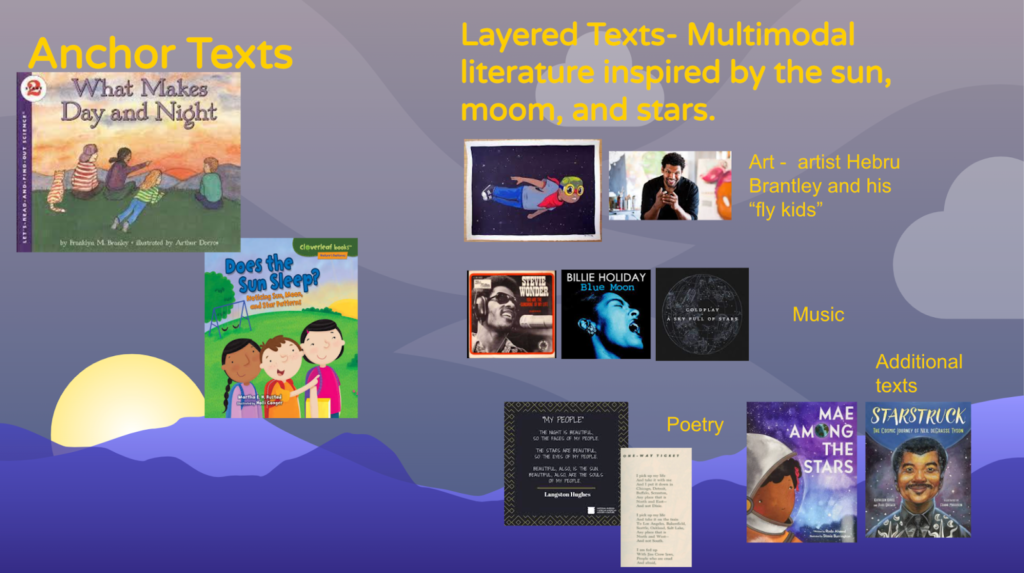 A Call to Action
By designing text sets through a lens of culturally relevant pedagogy, educators and curriculum writers invite diverse perspectives and lived experiences into the classroom while creating space for students to make meaningful connections between their own realities and the content. As Islah Tauheed realized above, "Challenging myself to find the representation that I didn't have" became an essential element to the design of her text set.
Text sets provide an opportunity for literacy instruction to move beyond the prevailing white-dominant narrative and engage students in widening their understanding of the world and how they can navigate within it. These text sets form pathways for students to:
Build on student assets to form their own opinions about issues that matter to them;
Explore, learn, and exchange diverse ideas and beliefs;
Engage with complex topics in context with empathy and understanding;
Immerse themselves in literacy learning across genres including visual art and music;
Analyze the impact of events, beliefs, and actions on diverse groups of people or individuals; and
Be inspired to move opinion writing toward writing for social change, which builds connections between their learning and their lives beyond the classroom.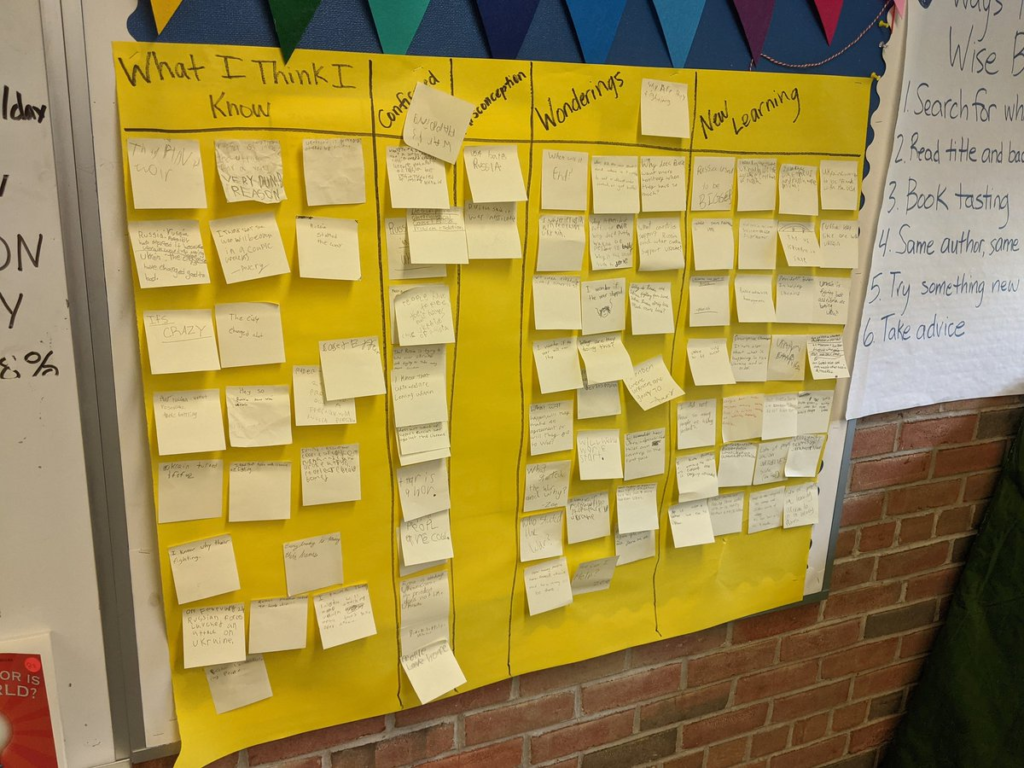 We invite you to join us in designing and testing text sets to support culturally relevant instruction. Share your feedback and/or your own culturally relevant text set examples using this survey.