Teacher efficacy, voice, and choice are essential parts of purposeful professional development. What does it look like during distance learning when our teachers are focused on developing Google Slides to educate their students, sharing a creative Google Meet to send virtual hugs, and hopefully making time for their own self-care? Achieve the Core is the answer! It has a multitude of resources for all K-12 teachers to grow their craft independently, as a team, and/or as a school whether you are in your school building or at home in your distance learning space.
Achieve the Core's webinars are research-based, include real time examples, and support the belief that all of our students can learn using high cognitive demand activities, purposeful discourse, and metacognition.
I am excited to share how our school has used Achieve the Core webinars to facilitate professional development during distance learning. *Note: Our district calls our weekly professional development Site-Based Collaboration Time (SBCT). These sessions are in addition to our as-needed staff meetings.
Our Title I elementary school's yearlong content focus is digging deeper into college-and-career-ready math and English Language Arts Shifts ( Understand – The Shifts) in order to ensure our students are doing the "heavy lifting" in their learning. During the school closure, our principal, Anne Pietranton (K-3 Reading Strategist), and I (instructional coach/4-5 Interventionist) collaborate to determine what webinar and/or article we should share with our staff. We follow the same routine each week to stay consistent during an inconsistent time. We send out the webinar link, the flexible discussion questions, and the Google Meet invitations a week ahead of time. Each professional development is designed to run 45 minutes to an hour. The three of us "meet" with each grade level which makes the conversation focused on their students and on their growth. One of us scribes using Google Jamboard.  Our teachers are asked to share what went well and what changes we need to make to the professional development in order to make future sessions better, by reflecting with one of us or using Google Forms.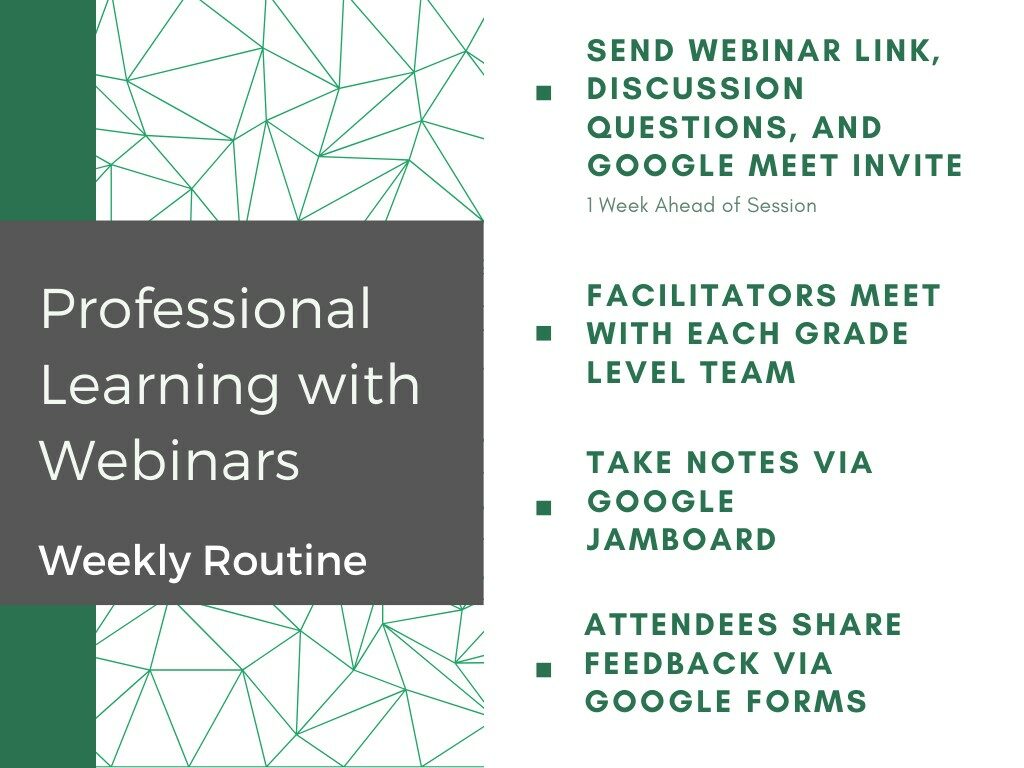 College- and Career-Ready Shifts in Mathematics was the first webinar we shared with our staff during distance learning. We chose to integrate Kahoot! in order to launch our professional development virtually with each grade level.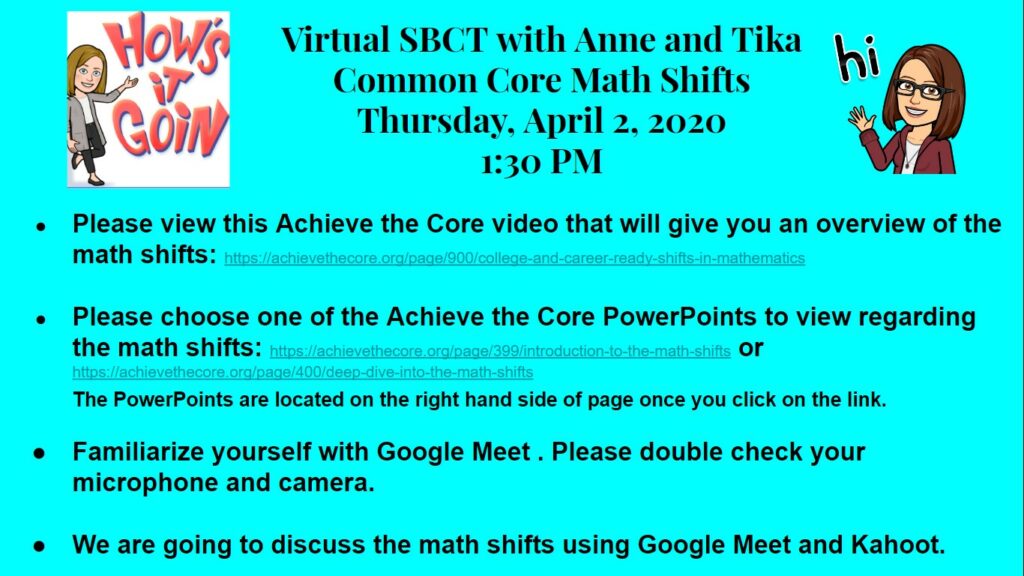 Who's Doing the Work: Shifting the Lift in Math is the second webinar we watched. These are the questions we shared with our teachers to launch the discussion: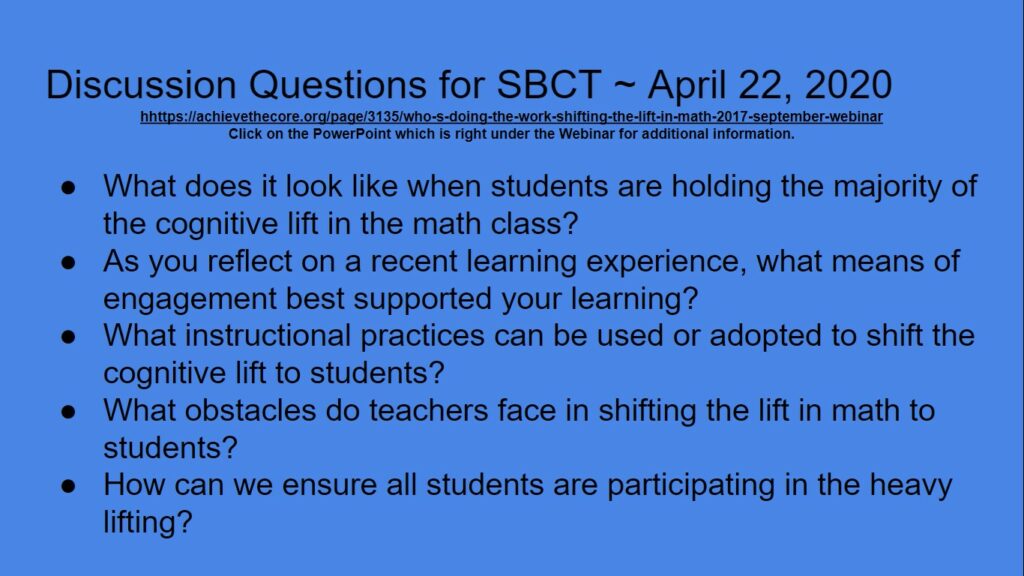 Text at the Center is the third webinar and most popular among our staff so far. Our teachers have now chosen to take on the facilitating responsibilities to make it more of a natural discussion: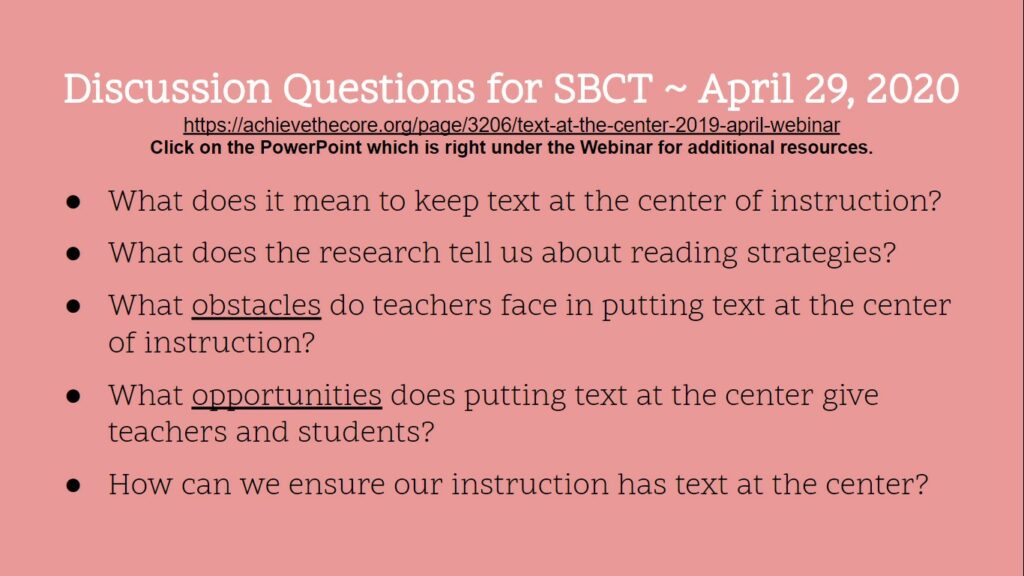 We have chosen an article from Academic Spotlight: 3 Keys to the Reading "Road Game" – The Partnership for Inner-City Education for our latest session to support what we have discussed thus far: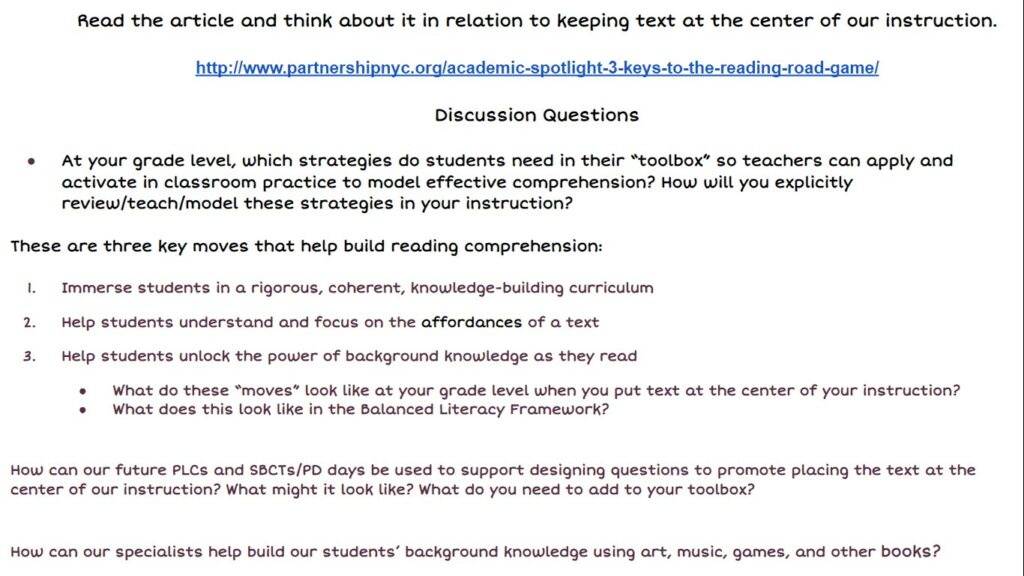 In the coming weeks, we look forward to sharing webinars on Math Language Routines: Vibrant Discussions in the Math Classroom  and on Math Language Routines – The What, the Why, the How to enhance our math lessons that already include Number Talks: Whole Number Computation, Grades K–5: A Multimedia Professional Learning Resource, Illustrative Mathematics Tasks, purposeful discourse, and metacognition exercises to drive our instruction.
Our staff is looking forward to using  Achieve the Core Webinars, standards-aligned blogs, and resources to continue our professional growth.