I co-taught for the Hawai'i Department of Education (HIDOE) Learning Lab, a summer venture that put teacher teams together to offer virtual enrichment classes for cohorts of students. My co-teacher and I were an unlikely pair. He is a high school computer science teacher from O'ahu, and I am a biology teacher from Hawai'i Island. While we had attended training sessions together before, we had never worked together professionally, let alone taught a class in tandem with only a few days of preparation.
Our class aimed to teach Google Suite skills, working to get high school students proficient in Docs, Sheets, Slides, and introductory video recording. As a twist, we themed our lessons with our hobbies—cooking and baking— and what resulted was The Sweet Suite. We offered two sessions, each one hour in length for eight days, for up to 50 students. Advertised as a "laboratory" setting, students and families signed up knowing that the curriculum and many teaching strategies would be piloted in this format, and honest feedback was expected. However, we were not prepared for the blatantly honest feedback we received during the first week! That feedback led me to realize what is imperative to productive/positive/successful classroom dynamics: centering student voice and choice."  Students feel more comfortable in environments where their perspectives are integral to protocols and experiences. They can invest their current and future selves in opportunities that acknowledge how their emotions and environments vary by the day.
A few students lingered in the virtual meeting after we wrapped up class on our second day, looking like they were waiting to engage in conversation. I took the bait: "So, how was it?"
After a brief pause, a student spoke up. "It wasn't great."

"Yeah," another student chimed in, "I didn't like it. Will we have to do that tomorrow?"
My co-teacher and I exchanged quick glances. Swallowing our pride a bit, we inquired: "So, what would you want?" 
"We want to choose our own groups," the first student offered. Others nodded. After thanking the students for their candid responses, we bid aloha to our students and offered them a change for the next day's lesson.
Breakout rooms are a top priority of many teachers' lists of instructional strategies. Since breakout rooms are often a tool to use when teachers want to increase personalization, have more directed conversations, and allow students opportunities for novel engagement, my co-teacher and I initially hoped that randomized breakout groups would support students in the new virtual space. They were coming in from a variety of public and private schools across the state and ranged from rising freshmen to seniors. However, this was far from reality. The newest technology tools do not replace thoughtful pedagogy and classroom culture.
Students craved the comfort and choice that we did not initially create for them and in preparation for the next day of class, we brainstormed ideas. How about assigning groups by age? Maybe by island? Hogwarts House? Nothing sat right. A fleeting wonder stuck. What if we gave characteristics of the group, and offered students the opportunity to choose based on their self-perception? They would choose a breakout room, not by what their peers or society decided for them, but by what they felt they could meet that day. It could not hurt to try after the earlier feedback.
At the start of the small-group session we deployed the group links and characteristics: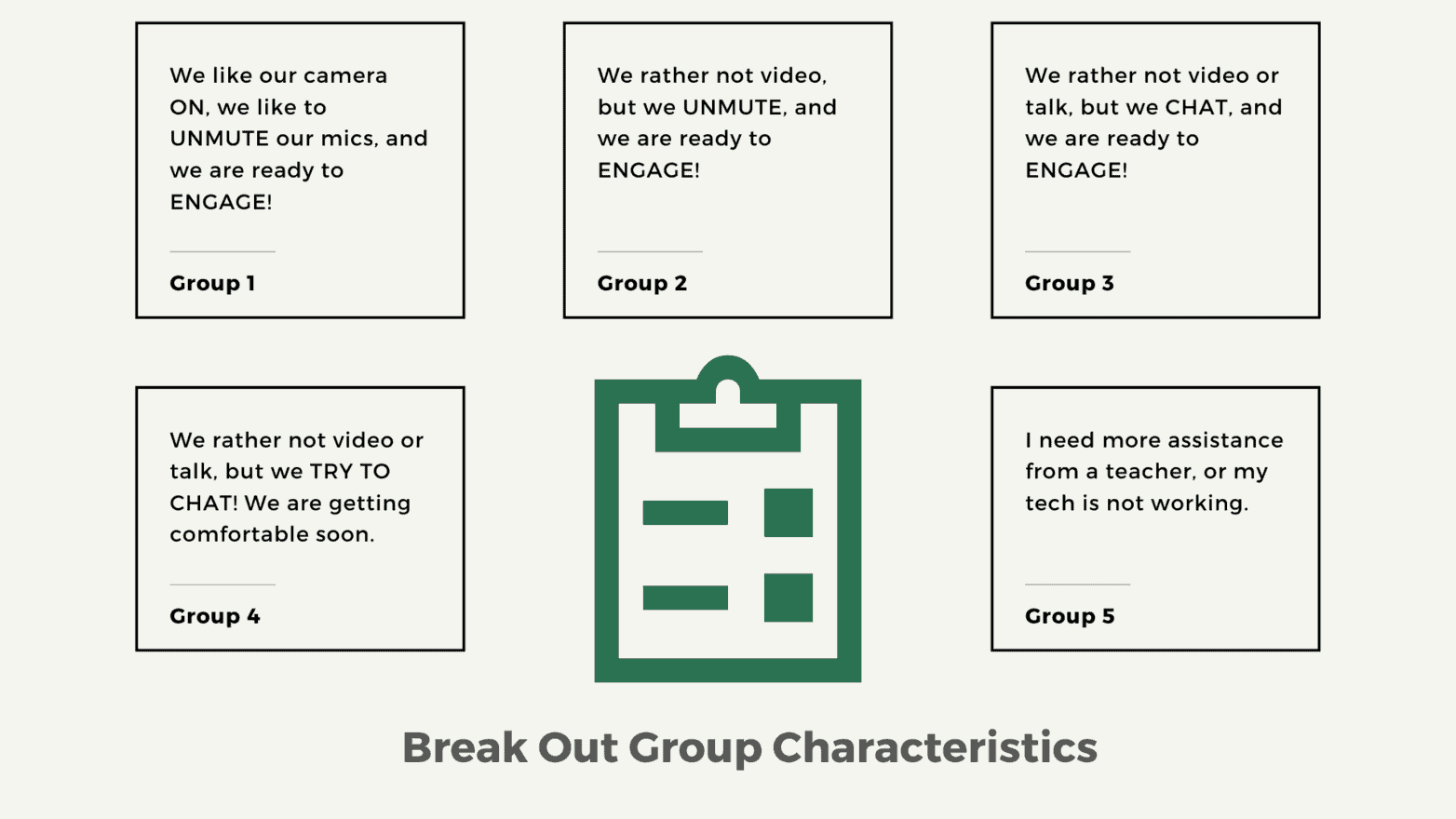 We opened the breakout rooms, and no one lingered in the main session as students moved quickly into the individual groups. Quick checks in Groups 1-3 showed the students engaging in the activity. My co-teacher remained in Group 4 to help students build confidence, and I hosted Group 5 to help those students get acquainted with the platform and the activity.
As we checked in on the breakout groups near the end of the sessions, the volume of voices in Groups 1 and 2 were heartwarming. The lengthiness of Group 3's chat was staggering. Students in Groups 4 and 5 let us know that they might be ready to move into different groups soon. At the check-out stage of our whole-group meeting, students offered positive and robust feedback on how much they enjoyed the session and were looking forward to seeing their peers in the next meeting.
The following sessions continued smoothly. For the next few days, we kept the same group characteristics and noticed how students moved into different groups by the day. Some noted that background noise prohibited their mic one day, and others developed greater confidence to turn on their cameras. Offering students choice and voice, with daily variation, was a success!
Although some group characteristics transformed into more traditional cues, such as the amount of work completed, need for teacher support, and willingness to exceed course expectations, the common thread of student voice and choice remained. Students came to class prepared to engage and challenge themselves, with the expectation that we as teachers honored their choice. They continued to linger after classes to offer feedback and were eager to see how we changed the class and valued their voice.
This is an instructional strategy that will persist in our own virtual classrooms this year. The theme of student voice and choice was always there, but it will be supported by the technology and the belief that students' self-perceptions change by the day. We will be there to elevate them on their best days and hold space for their needs on other days. We will meet students where they are so they can feel supported in their true selves every day.