Reading science emphasizes two critical pieces in systematic early reading instruction: securing foundational skills and building knowledge and vocabulary. These "Early Reading Accelerators" are essential content that all readers need access to in order to become proficient. For more on these critical components, including how teachers are engaging in this work remotely, visit the Early Reading Accelerators Critical Content Collection. 
In our work with educators, we get a lot of insight into the world of virtual learning. Time and again, teachers working with our youngest students share their concerns about what it takes to teach literacy in a remote setting: How can we teach students to read through a computer screen? How will we create rich experiences with read-alouds when we can't sit on the carpet and absorb an amazing book together?
Dr. Melissa Collins, second-grade teacher in Memphis and recent inductee into the national Teacher Hall of Fame (!!!), shares the sentiment so many across the country are feeling right now. "We're going through unprecedented times, and so, it has been challenging. I'm just grappling with different ways that I can get kids engaged and help them really develop as proficient readers," she told us recently. One thing is clear, there are no experts to draw from here, no tried and true "best practices" for this work, save for the expertise being developed in real-time by teachers doing the work. 
On a recent webinar, we asked Dr. Collins and three other teachers from around the country to share their advice about what's working for engaging in meaningful early literacy work in the remote learning environment. Read on for some inspiration, and be sure to leave your own ideas for virtual K-2 literacy in the comments. 
Virtual Book Baskets that Connect with Students…and Grow Knowledge! 
Dr. Collins uses the free-for-teachers digital library, Epic, to create specialized book collections just for her students. Importantly, these virtual "baskets" aren't organized by restrictive levels, but by topics in different content areas. Dr. Collins also intentionally focuses on topics and texts that reflect her students' identities and interests. "I am focused on creating a culturally responsive classroom…our students of color, our Black and Brown students, they often don't get to see themselves in the books we choose," she explained. As you think about creating virtual book baskets for your students ask yourself: How can I ensure all students see themselves affirmed in books? What topics are my students interested in reading more about?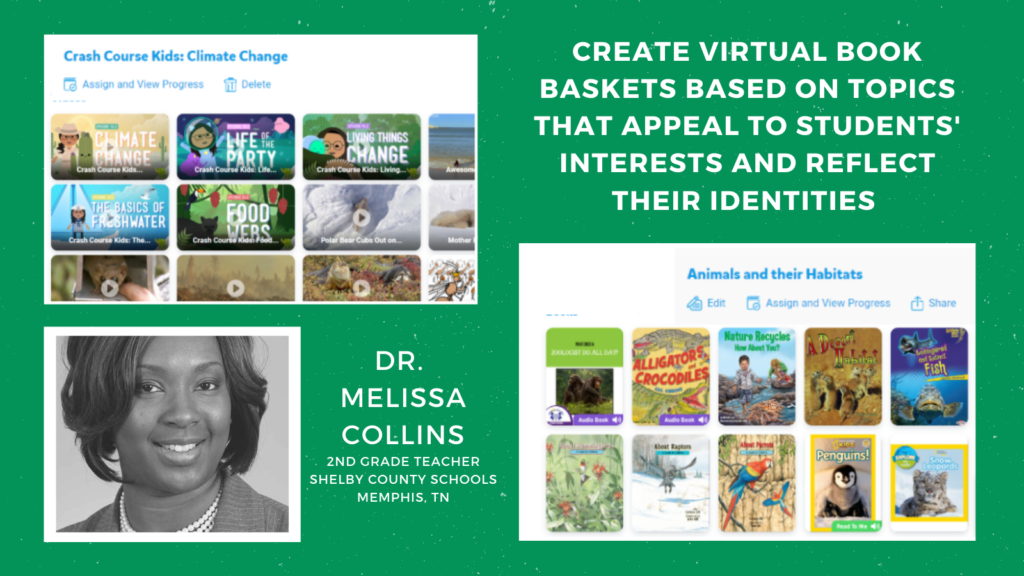 Conversación Estructurada en Zoom

First-grade dual language teacher in San Antonio ISD, Janelly Ramirez, is revamping the QSSSA (Question – Signal – Stem – Share – Assess) protocol she uses to support her students learning English to work for a virtual environment. Ms. Ramirez told us, "I know it sounds a little hectic—first graders in breakout rooms—but the students love them and now they always ask me, 'Are we going to do breakout rooms today?'" 

So, how does Ms. Ramirez manage it, all while supporting language development through structured conversation about read-alouds with complex texts? To find out, view the Prezi below (Spoiler: emojis and stuffed animals are involved!). Use the > arrow at the bottom of the presentation to advance. 
Morning Meeting to the Max! 
Adrian Austin, second-grade teacher from Charlotte-Mecklenburg schools in North Carolina, wants to start her students' days off right (and build critical content knowledge to boot) with what she calls a "ramped up morning meeting." Ms. Austin tells us that she "asked students first what they wanted to learn about. We took their ideas and dove into a weekly learning study during morning meeting." To do this, she curates a collection of content-rich videos, short texts, and interactive experiences based on the week's topic (recently, dinosaurs!). All that learning culminates in a weekly project that allows students to show off their new knowledge and vocabulary. Ms. Austin told us that even if you don't have flexibility in your curriculum or text selection, this is a perfect way to build knowledge and vocabulary, classroom community, and student voice and choice that is still within your locus of control.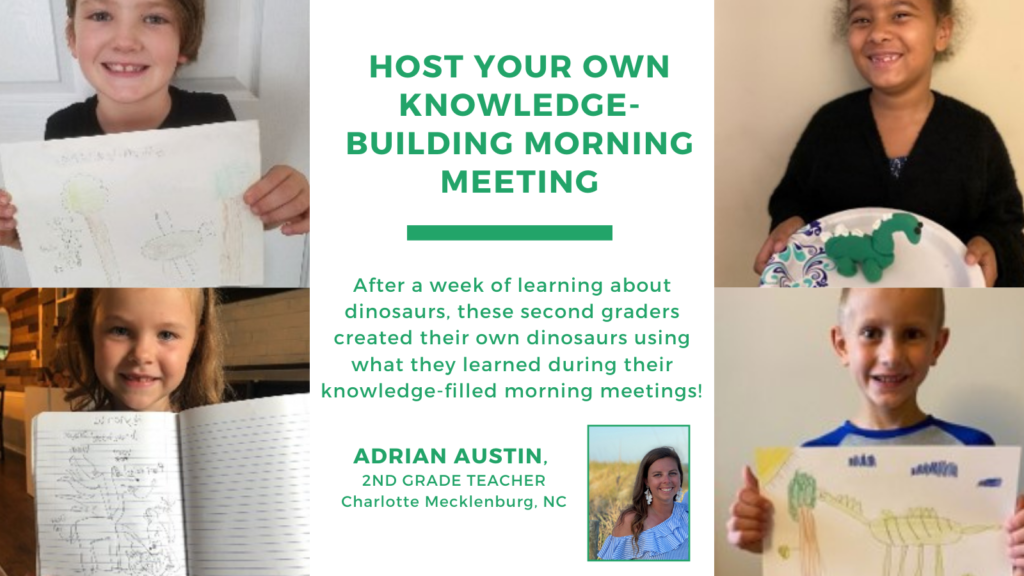 The students in Ms. Austin's class also love to use the free app, ChatterPix Kids, to record themselves talking about the knowledge they've gained. In the example below, one of Ms. Austin's students shares thoughts about their perfect school, a topic she started with to find out what really mattered to her new students about their learning environment.  
Simple, Effective, and Fun – Foundational Skills Bingo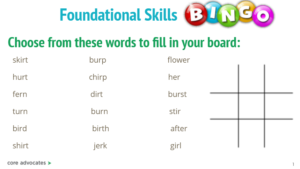 Got a bunch of extra prep time on your hands lately? That's what we thought. Ms. Austin also gives us an idea for a super simple, low prep way to practice foundational skills! She shares her screen with a selection of decodable words, based on taught sound and spelling patterns. Students select words to create their own bingo boards at home using whatever they have (pencil and paper, whiteboard, notebook)! "We played this over and over and over again and students absolutely loved it…they loved coming off mute to shout BINGO!" We're in! 
Create your own copy of Adrian's bingo template board. And, be sure to check out these ways to effectively enhance your foundational skills instruction with these engaging activities. 
Wait…Where's That? Visual Cues to the Rescue 
Toni Clymer has been teaching for over 18 years (*snaps*), but no matter how long you've been teaching, there's a lot that is new this school year. Ms. Clymer tells us that she's had to figure out how to support the first graders in her class with navigating new computer apps. One thing that's helped? Printed visual cues with the buttons, toolbars, and widgets for the programs they're using to engage in grade-level work. Download these free visual cues for Zoom or Microsoft Teams, or create your own based on the apps that you use with your students. These supports "really made it a lot easier to show..and students have blown me away with their capabilities," Ms. Clymer tells us.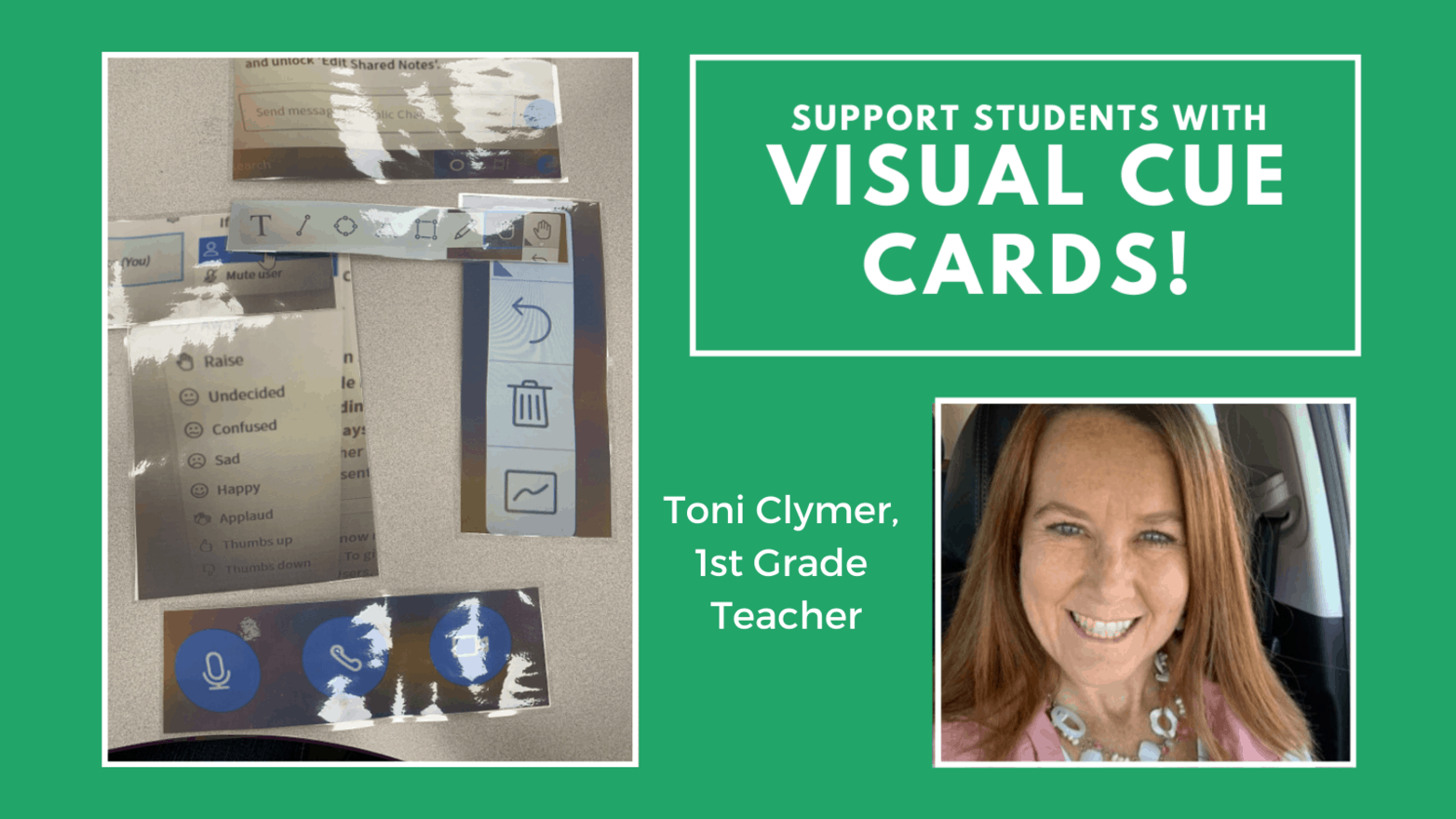 A Little Help with Scheduling! 
Ms. Clymer also told us that she's needed to find new ways to build relationships with families—and finding time to schedule check-ins can be especially challenging right now. One of her top recommendations is Sign Up Genius. This free site allows you to create customizable time slots that families can sign up for. Think about using it for family meetings, or even scheduling small groups or 1:1 support time with students. 
What's been working for you in your K-2 virtual literacy instruction? 
Don't forget to share your ideas in the comments below, and if you're interested, watch the entire webinar here (1-hour professional learning certificate offered)! The more we support and learn from one another, the stronger we are, and the better we can be on behalf of our students.