02/02/23 | Adjusted: 02/22/23 | 4 files
Grades K-High School
ELA Planning Pathways
Contributors from the School District of Philadelphia: Alison McMonagle, Christine Chang, Hannah Weiss, Kristen Sylvester, Dr. Nyshawana Francis-Thompson, Shirl Ishmael, Dr. Yonaira Rodriguez
A brief video explanation of the work

Learn more by watching educators use the tool at the bottom of the page.
Unit Intellectual Preparation for Inclusive Literacy
Student Achievement Partners worked with the School District of Philadelphia to create a district-specific unit preparation tool to support their newly developed Curriculum Equity Initiative and anchor text resources. These resources were developed using the Text Analysis Toolkit - a suite of resources to support equitable text selection, analysis, and use - as a starting point for customization.
The resulting unit planning tools focus on three pathways for intellectual preparation in service of text-based, inclusive literacy: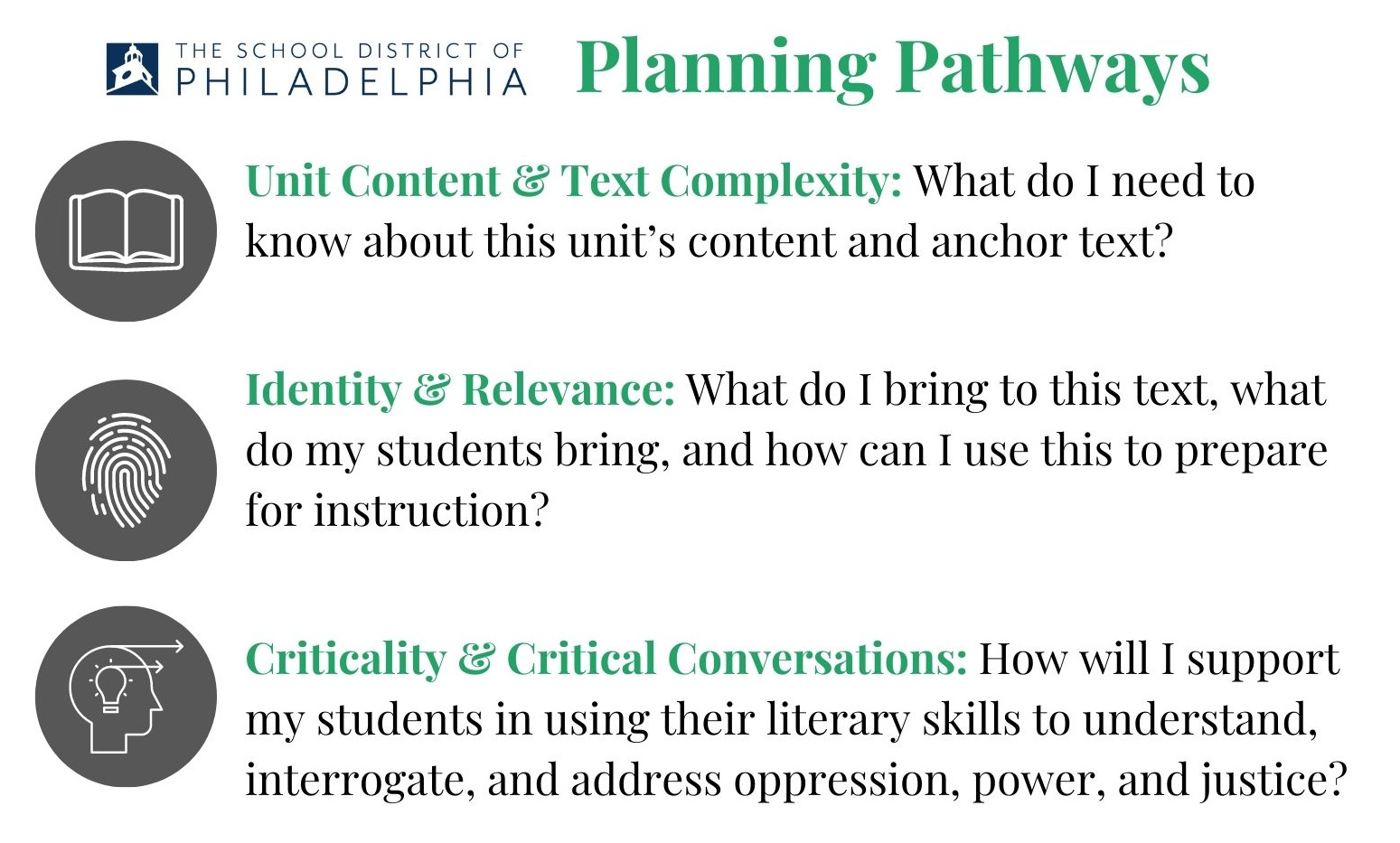 These tools aim to support deep, intentional reflection around the diverse and complex anchor texts from Philadelphia's district-developed curriculum (hear more about the design in this blog). The grade-specific examples in the resource box have text-specific prompts for educator consideration intended to build a bridge between lesson planning and instructional moves.
The resources are available as Word files and Google Docs (the provided link will create your own personal copy of the resource) and include:
Interested in learning more about this work or in co-design partnerships with SAP? Please reach out to us at info@studentsachieve.net.
Permission and Acknowledgements: The resources on this page were developed by Student Achievement Partners (SAP) and School District of Philadelphia's Office of Academic Supports, and were created under the CC BY-NC 2.0 license. You are welcome to use these materials for personal and professional use. However, the materials may not be sold for profit. If materials are used in professional development, we ask that you give SAP and Philadelphia credit.
Send Feedback